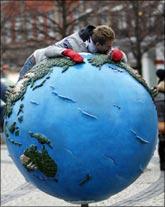 The international climate change talks, which started in Copenhagen today, will see a 35-member official delegation from India. The attempt will be to negotiate a new global climate treaty to replace or extend the 1997 Kyoto Protocol beyond 2012.
The government is sponsoring 28 officials from the ministry of environment and forests, the ministry of external affairs and the Bureau of Energy Efficiency. There will be representatives there from 193 countries. Environment Minister Jairam Ramesh is scheduled to fly on Thursday evening, while Prime Minister Manmohan Singh will be going there on December 16.
The Indian delegation will include five Members of Parliament (Mps), three from the Lok Sabha and two from the Rajya Sabha. The official delegation will also have four students, two school-going and two college-going. "This will be a political and generational delegation," Ramesh had earlier told Parliament. "The bulk of the delegates have left for the talks," said an official.
Two key negotiators for India, former IFS officer Chandrashekhar Dasgupta and ex-environment secretary Pradipto Ghosh, have agreed to rejoin the delegation, after having delayed their departure because of initial misgivings on Ramesh's statements on India's stance of cutting emission intensity by 20-25 per cent by 2020.
The remaining negotiating team comprises the PM's special envoy on climate change, Shyam Saran, head of the Bureau of Energy Efficiency, Ajai Mathur, and environment secretary Vijai Sharma.
Climate change concern rises 1%: Survey
Concern for climate change in India has increased by 1 per cent in the last two years, with 54 per cent of Indian consumers saying they were "very concerned" about climate change. Globally, 37 per cent consumers were very concerned about climate change, compared with 41 per cent in 2007.
A new research by The Nielsen Company and the Oxford University Institute of Climate Change noted that Indians were most concerned about air pollution, with 62 per cent, while water pollution and concerns over water shortages came next with 61 per cent.
With 54 per cent, global warming was third on the list of concerns for Indians. In line with global sentiments, most of the consumers in India still believed the main responsibility for solving climate change should lie with the government.
The report found that in October 2009, 37 per cent Indians said governments should restrict companies' carbon dioxide emissions and other pollutants, whereas 36 per cent consumers worldwide felt so.
India Inc can deliver required emission intensity cut: CII
Indian industry is well-positioned to deliver on the reduction goals set by the government, as apparent from the past successes achieved in industrial energy efficiency, renewable energy, green buildings and clean conventional energy technologies, says the Confederation of Indian Industry.
"The steady growth rate of over 8 per cent has been accompanied by a less than 4 per cent growth in energy consumption in India over the past few years," said a CII statement.