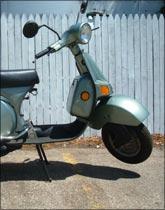 Bajaj Auto, once known for its scooters which revolutionised the two-wheeler market in the country, on Wednesday said it will exit the segment by the end of the fiscal to focus exclusively on motorcycles.
The company that by and large created the scooter market in the country through its popular 'Hamara Bajaj' campaigns in the 1980s and 90s, today sells just one scooter -- the 100-cc gearless Crystal.
"We will exit the scooter market because we don't see much sense in it. . . If we are to be a motorcycle specialist, we cannot make scooters," Bajaj Auto managing director Rajiv Bajaj told reporters at the launch of its 135-cc Pulsar, targeted more at the mass-market.
"The scooters did not sell according to our expectations. We are making hardly 1,000 scooters a month now and mostly for exports. Now our focus is on motorcycles," he said and added that the company wants to become the largest bike player in the world, without giving any specific time-frame.
"One day, God willing, we will be the largest motorcycle company in the world. If we have to be a motorcycle specialist, we have to make sacrifice (in scooter segment)," he added.
According to the Society of Indian Automobile Manufacturers', Bajaj just sold 154 units of Crystal in November and exported 104 units. Its cumulative domestic scooter sales during the April-November period was 3,356 units and 728 units overseas.
Bajaj said the company has a production capacity of three million bikes annually. "In the 30-million global bikes market, the world's largest bike maker Honda sells seven million units. We can make three million units. We can double it and triple it by just staying in the motorcycle market," he said.
The company today launched its 135-cc Pulsar, priced at Rs 51,000 (ex-showroom, Delhi).
As part of its strategy to expand in the bikes segment, the company is developing high-end versions of its Pulsar brand. "We can go for a Pulsar 400-cc or a Pulsar 500-cc. We are already in the process of developing such bikes and our R&D teams are at work," Bajaj said without divulging details.
Its Pulsar portfolio includes the 150-cc, 180-cc and 220-cc version besides the 135-cc launched on Wednesday.
The company has also decided to phase out its model 'Exceed' and has already stopped its production, Bajaj said. On the sales objective, Bajaj said, he is looking at a 1.8 million units sales this fiscal. It sold 1.2 million unit last year.
"With the launch of the new 135-cc Pulsar, we expect the monthly sales of the Pulsar family to reach 75,000 units from January. Besides, we are already selling 80,000 units of the Discover every month," Bajaj Auto chief executive officer for two-wheelers S Sridhar said.
Bajaj is also going ahead with a distinct branding for its three-wheeler segment.
"Since July this year, we have been marketing our three-wheelers under the brand 'RE', denoting reverse engine. So RE will now be our brand for commercial vehicles," Bajaj said, adding that RE will, however, not be a separate company.