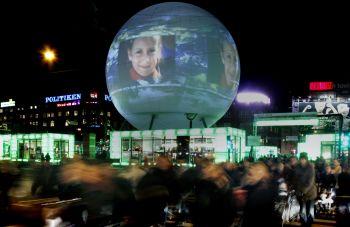 The G77 and China have reacted angrily over the leaked Danish draft proposal for an agreement on the climate change that puts mitigation commitments, calls on peaks years for developing countries as well as endorsing the IPR regime.
Five countries Brazil, South Africa, India and China already knew about the Danish draft before it was leaked.
It has been shown to a handful including BASIC who responded by coming up with its own text in Beijing called the 'four country' draft put together on November 27-28.
"This was just to give a sense that we are not comfortable with the Danish draft and its perspective is entirely different so we had to come up with something quickly that could be presented as a counter," a senior negotiator said.
"This was also to send a political message that we need to have an alternative to the Danish draft," he added.
On the second day of Conference, the Danish draft was leaked causing a big storm, and a renewed call by developing countries insistence that any deal at Copenhagen must be based on the Bali Action Plan and United Nations Framework Convention that are binding agreements -- both of which the Danish draft moves away from.
Some of the provisions that trouble G77 are -- the peaking terms that call on 'global emissions' to peak by 2020 noting the developed countries will peak first followed by developing countries.
Head of the Chinese delegation Su Wei said that it was 'unfair' to set a peak for non-industrialised nations, which were still developing and highlighted that emissions of developed countries were still going up.
The Danish draft also makes a distinction between developing countries and Least Developed countries and calls on the former to 'commit to nationally appropriate mitigation action' and suggests an 'Attachment B' for listing the individual commitments taken in National Appropriate Mitigation Action."
It states -- "Developing countries which have not reflected their contributions at COP15 should do so except Least Developed Countries."
In terms of technology transfer, the Danish draft affirms respecting IPR regimes including the legitimate interest of public and private innovators.
The counter BASIC draft reaffirms the main principles of the UNFCCC of 'common but differentiated responsibilities', the 'principle of equity' and that economic development and poverty eradication are the first and 'overriding priorities' of developing countries.
It places all legally binding mitigation on industrialised countries without exception.
The draft also provides that developing countries will take voluntary mitigation action taken by developing countries based on their national circumstances including that such mitigation actions should be financed by developed countries.
It also says that the mitigation plans of developing countries will be subject to 'internal' assessment and will be made public for full transparency, and calls for technology transfer free of barriers and IPR constraints.
But the BASIC draft has also been criticised for not addressing the vulnerabilities of the developing nations and several Small Island States that fear for their existence due to rising sea levels would prefer large emerging economies to take binding measure.
Currently, the Alliance of Small Island States is working on another draft.
The leak of the Danish document has also added to the whispers in the corridor that a deal has already been worked out by the big powers and in the momentum to finalise a deal nations may be forced into signing a political deal.
Responding to such concerns, UN Climate Chief said, 'There was no merit to such thinking' noting the deep divisions between the US and Europe with each other.
"What I have heard representative of both Europe and the United States say is that the target that China has put on the table can be improved upon and what I have heard the representatives of Europe and China say is that the target that the United States has table can be improved upon," he said.
"So clearly I think we're going to have a very intense period of negotiation," he added.
Following the leak of the document, Boer also issued a statement noting that the leaked document was only an 'informal paper given to a number of people for the purposes of consultations.'
Prime Minister Manmohan Singh's special envoy on climate change Shyam Saran who heads back Thursday to consult with him and will return with Singh on the December 17 said India would not be 'hustled' into any kind of political deal.
Image: A large globe featuring an interactive display sits in a central square in Copenhagen | Photograph: Bob Strong / Reuters