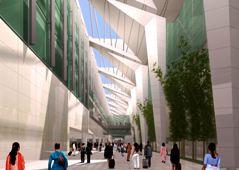 Brushing aside scepticism, including that exhibited by Commonwealth Games Federation chief Michael Fennell, about India's ability to host the Games in October 2010, civil aviation secretary Madhavan Nambiar predicted that not only would the New Delhi airport be fully revamped by that time but it would be a state-of-the art facility.
Soon after his keynote address at the US-India Aviation Partnership Summit at the Washington Convention Center in Washington DC, Nambiar told rediff.com, although India's airlines were bleeding currently, they would bounce back because of domestic and international travel demands.
The multi-billion purchase of new aircraft from Boeing by Air India was on track despite the national carrier's problems but it might try and negotiate deferred payments and other concessions, he added.
"Refurbishing of the Delhi airport, which encompasses an investment of Rs 10,500 crore (Rs 105 billion), will be fully complete by May 2010," he said.
"The airport would also have 75 aero-bridges", Nambiar added.
He acknowledged that both domestic and international carriers in India were in a bad financial state. "We have to look at this in the background of recession", he said.
"It is a fact that almost all the airlines in India are bleeding. Therefore, there has to be a bit of a pause to consolidate. There has been a recession over capacity. Now every airline is trying to cut costs, is looking at new routes. The next 6 to 8 months are going to be crucial."
In a more optimistic note, Nambiar said, "Now that the domestic traffic has picked up, I think it is the time we revisited the open skies.
"In fact, Jet Airways is talking to United (Airlines) and it's almost finalising the code-share and looking at new routes. I think in the next few months, you will see an opening."
With regard to Air India, he said it was no exception and was also 'bleeding' even as a ministerial body was looking at the nation carrier's restructuring 'both in terms of cost reduction as well as revenue enhancement.'
"The restructuring plan will soon go to the Cabinet where we hope to get an infusion of funds," he added.
Asked if all this could put in limbo Air India's multi-billion deal for the purchase of aircraft from Boeing, Nambiar said, "Basically, it's very clear that Air India has an aging fleet. We do require new aircraft. Thing that needs consideration is how much of the principal payments and interest burden we can take."
"Therefore, we are looking at various options," he said, adding, "We may face some deferment.
"We are looking at the funding that we may get and the kind of financial restructuring we need to do. We should take a final call on the restructuring plan in a couple of months."
Meanwhile, he said India continues to cooperate closely with the US on safety and security issues which 'are primary objectives.'
"We are looking at new SOP's (special operating procedures), we are also keeping a watch on collaborations and international best practices. These are part of an ongoing dialogue."
He said he had and would continue to meet the TSA officials in the US. "We are even looking at having small groups to work on some of the issues and concerns."
Nambiar also said the directorate general of civil aviation had set up a group which is looking into carbon emissions "and we are part of the team on international best practices. There are some templates and this has now become a priority."
He predicted that in the next six months, "we should be having a plan in place and we are talking to all the stakeholders -- the airports, the airlines and others -- because it also has a cost. Given the fact that the airlines are bleeding, it will have to go a little carefully because they can't take on too much of this at this juncture.
"But it is very much on our radar," he iterated.