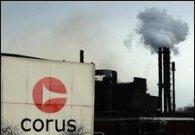 It is Tuesday afternoon. Probably the reason why the high streets in Redcar, Middlesbrough, show little signs of activity.
Yet, the sight seems a sharp contrast to other larger cities in the UK like London or Birmingham, where shoppers throng the streets ahead of Christmas and New Year.
Middlesbrough (population, 142,000), in the northeast of England, is the home of Britain's largest steel maker, Corus, owned by India's Tata Group.
Local community members say that being a smaller town, the blow of the recession has been more pronounced in this steel-making capital.
The recent announcement to mothball a good portion of the Teesside plants has been a very ill-timed "body blow" said members of the Community union.
On December 4, after seven months of struggle, the management of Corus said the final decision to mothball the Teesside Cast Products plant has to be taken in the larger interest of the company. The decision will take effect by the end of January and render 1,700 people in the company jobless.
Earlier this year, a group of four steel consuming companies who had earlier agreed to buy 80 per cent of the plant's output over 10 years had pulled out, halfway through the contract.
The last seven months were spent on finding other buyers to keep the blast furnaces burning.  Corus is now legally challenging the decision of the consortium of Marcegaglia SpA, Dongkuk Steel Mills Co Ltd, Duferco Participations Holding Ltd and Alvory SA.
Craig Brooks and Richard Green, senior union members at Community (union) say their hopes have been shattered. "We were expecting better news to break. Maybe some new equity partner," said Brooks.
"Operating a 3 million tonne per year merchant slab plant is not sustainable without a long-term strategic partner," a statement from Corus last week said.
Driving his eight-seater Mercedes Benz from Middlesbrough station to Corus' Redcar plant, cabby John Finn claims the quality of the steel made in his home town is unparalleled anywhere in the world.  "The cost of making is probably much lower in India. Obviously, the wages must be much lower there," Finn said.
The region has a 150-year history in steel making. The genesis was based on the iron-ore deposits discovered here in the early 19th century.
The scenario today is very different. Raw material is now hauled from all over the world to feed this plant, making it logistically a very costly economic exercise. 
Brooks and Green are more concerned about their local economy than the overall health of the company. "We cannot look at the big picture. We are more worried about the 150-year culture," Green said.  They proudly cite landmark structures like the Golden Gate Bridge in San Fansisco and Sydney Harbour Bridge in Australia that were built with steel made in Middlesbrough.
The news of Tatas buying the company in 2007 was welcomed by the unions. "We thought the Tatas were a very ethical company, only to find little sign of that now. If the Tatas could hold their nerves, profits will come back to this plant," said Green.
He said Corus' earlier owners had made a similar mistake, of closing a coil plate mill that led to a loss of 1,000 jobs. "Looking back, that was a very bad decision. It could have kept the plant profitable," say the union members.
There are a handful of other employers in the region like chemicals major ICI and a few sub-contractors who work for Corus. But fallback options for the workers who will be given the pink slip seem limited. Apart from 1,700 who will lose their jobs in Corus, another 1,300-1,500 will be jobless in the sub-contracting companies.
Given the region's already higher unemployment rates, compared to national averages, it would be difficult to find alternative jobs. Migrating out of the region is an option but a difficult one to make.
Locals are also worried about the impact of the rising unemployment on social issues like crime and alcohol-induced problems. Unofficial statistics claim that crime rates in Middlesbrough are already four times the national average.
Willy, 33, sitting at the O'Grady's ale house on Queen Street in Redcar and drinking his favourite brew, says he might hold on to his job till March.
He seems not too worried about his future. He used to work at this pub before he moved to work for a Corus' sub-contractor some three years back. "I will find another job in some pub or something. It is these guys who have been working at Corus for more than 30 years that is worrying."
Many like Brooks and Green are third-generation Corus workers. Looking for a back-up job never seemed to have occurred to them until now.
Roy Myers, the owner of O'Grady's, said he bought the business only six years before, when economic conditions where much better.
Today, he largely depends on the 27 rooms he rents out on the first floor of his pub to keep the place running. "Good food, good booze and telly should keep this place going. And then, there is God," he says, pointing his finger up.
Whether God comes to his help or not, the UK government has announced a £60 million recovery package for the region, which should ease the blow from Corus' decision to mothball its operations.
The unions are yet not ready to give up. They are asking for a meeting with the top bosses at Tata and expect them to justify their decision with more facts. "The fight is not over yet," says Green.