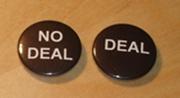 India and three other members of the BASIC group today briefly walked out of negotiations at the climate summit, apparently unhappy that enough focus was not being given to the second commitment period under the Kyoto Protocol that puts obligations on developed nations to undertake emission cuts.
Environment Minister Jairam Ramesh along with his counterparts from Brazil, South Africa and China walked out to meet Connie Hedegaard, the Danish President of the COP, and convey their protest.
While details of what happened were not available, sources said the development followed a disagreement between the developing countries and the developed nations on the second commitment period.
The BASIC ministers were unhappy over the second commitment period not being discussed properly, sources in the Australian delegation said. All formal meetings were put on hold following the development.
After holding a 35-minute meeting with Hedegaard, the ministers emerged out, with Ramesh signalling that the issue had been resolved.
Asked if the issue had been resolved, Ramesh said: "I think so... I am heading to the plenary now".
Informal ministerial-level meetings are also scheduled to begin on Monday.
The negotiations between delegates trying to hammer out a treaty to combat global warming have turned bitter as they entered the crucial second week with sharp differences persisting between the developed and the developing nations.
The development came hours after India said it has prepared an integrated document emphasising on 'equitable access' to atmospheric space for all in close co-ordination with China and several countries including from Africa.
Ramesh said the integrated draft of a potential treaty prepared by the BASIC countries (Brazil, South Africa, India and China) has been merged with another text prepared by the Africa group within the G77.
"We have merged the Africa draft and the BASIC draft. We now have a common Africa-Basic draft but we are not unveiling it now," he told PTI.
Ramesh also made it clear that India will not compromise on its three key principles-- no legally binding emission cuts, no peaking year and no international review of domestic-funded mitigation actions.
"India will not compromise on its 'teen-murti'," he said adding that the outcome of the talks must be within the UN Framework on Climate Change, stick to the Kyoto Protocol and abide by the Bali Action Plan.
"Some countries think that we are going to do a new convention. Some countries think we're going to do a new protocol. So we made it absolutely clear that India is here not to renegotiate the three murthi," the minister said.
"I have made it absolutely clear that we're not here to negotiate a new agreement, we have not come here to negotiate a new protocol," he said.
Ramesh also said India's proposal to set up a network of climate innovation centers in various countries for developing and sharing green technologies has been accepted and will form the basis of the final Copenhagen agreement.
"It is my understanding that the Delhi Declaration on technology development has been very substantially accepted and will form the basis of the Copenhagen agreement when it is finally released," Ramesh said.
The climate innovation centres are aimed at identifying and developing local technology requirements and also for facilitating dissemination of current technologies.
Meanwhile, China's vice foreign minister He Yafei indicated that Beijing might not seek a share in the funding flowing from developed countries to poor nations to reduce carbon emissions.
"Financial resources for efforts of developing countries (to combat climate change are) a legal obligation...That does not mean China will take a share- probably not," He told Financial Times.
Around 100 Presidents and Prime Ministers, including Manmohan Singh, are expected to attend the final leg of the 12-day Summit on December 17-18.