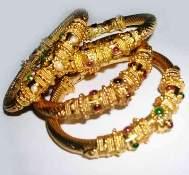 India's exports turned around in November after falling for 13 straight months, posting a growth of 18 per cent to touch $13.2 billion, but the expansion was attributed to base effect.
There is no "great shift in demand, it (growth) is because of base effect," Commerce Secretary Rahul Khullar said.
Among the sectors that performed good during November were gems and jewellery, which grew over 40 per cent to $2.15 billion, readymade garments to $727 million from $686 million a year ago, besides man-made fibre and petroleum products.

During April-October of the current fiscal, the country's merchandise consignments dropped by 26.5 per cent to $90.4 billion.
Exports started falling in October last year following deepening of global financial crisis post-Lehman collapse.
This coupled with recession in developed markets saw India's exports taking a severe beating. The impact of falling demand felt the maximum in May this with exports declining a steep 39 per cent. However, October figures had given some indications that falling trend could be halted soon.
Though exports fell in October as well, pace of decline slowed down to single digit at 6.6 per cent, which was also attributed to base effect.
Analysts had said there was an up tick in revival of some demand in the overseas markets and hoped that the forthcoming Christmas festivities would further push Indian exports.
The US and other major markets coming out of the recession in July-September quarter also augured well, they had said.