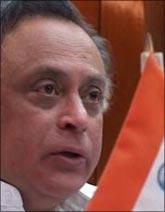 Environment Minister Jairam Ramesh has said that there have been some developments in the three provisions of the draft prepared under the Long Term Cooperative Action (LCA) track, which India presently finds "unacceptable".
This comes following a brief halt of the proceedings by the Africa group and the BASIC countries.
Noting that the three disputed provisions have come from the Alliance of Small Island States, Ramesh said he had met with ministers of several AOSIS nations including Bermuda, Grenada, Barbados and would also be meeting the Maldives later.
"I have met the AOSIS countries twice today," he said.
"We have suggested alternative formulations and we have also given our objections to para 3, para 4 and para 8 in writing to Michael Cutajar".
Last week, the chair of the LCA Michael Zammit Cutajar tabled a draft text in which Article 3 calls on all parties to reduce the emission cuts by 50, 85 or 90 percent by 2050.
Article 4 calls on all parties "peak" as soon as possible, recognising that developing nations will do it later than developed countries. Article 8 calls for a comprehensive review of the implementation of mitigation obligations with the first one in 2016.
Stressing that para 3, 4, 8 have been presented without alternatives, Ramesh had previously said, "I have made it absolutely clear that 3, 4, 8 are red lines as far as India is concerned. We have problems not only with the drafting but also with the idea."
However, article 3 also deals with the limit to temperature rise and puts options of two degree Celsius and 1.5 Celsius. The Alliance of Small Island States (AOSIS) are fighting to change the temperature limit from 2 degree Celsius to 1.5 degree Celsius, and also to place more obligations on emerging economies.
The Intergovernmental Panel on Climate Change has said that several of these island states would go sink or face catastrophic consequences due to rising sea level even if temperature rise was limited to 2 degree Celsius.
The minister also noted that India's opposition to 3, 4 and 8 had also been taken up by the developed nations. "We have mentioned it to the UK because they have considerable influence over AOSIS countries," Ramesh said, adding that the matter had also been mentioned to the Australian Environment Minister Peggy Wong.
"One of the lessons we must learn is that we must treat AOSIS as an important entity. We can't take them granted. We have to listen to them and understand what their concerns are," he said.
Ramesh mentioned that India's opposition to the three provisions was supported by the BASIC countries and several nations in the G77, especially Saudi Arabia.
Delegates from 192 countries have been for a week attempting to hammer out a climate change texts before the heads of state/government from over a 100 countries including Prime Minister Manmohan Singh and US President Barack Obama arrive later this week.