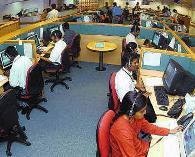 Hiring activity continued to surge in the country's IT capital with the job index moving from 598 in October to 649 in November 2009, up by 8.38 per cent.
Prominent industries in Bangalore which witnessed a rise in hiring activity include IT and ITeS.
The IT industry overall saw an increase in hiring activity in November 2009 by 5.35 per cent,, Naukri JobSpeak, the monthly job index released by job portal Naukri.com, said.
Hiring for IT professionals is 'back' after the dip in October 2009 with an increase of 7.8 per cent and 21.8 per cent in the index of IT-Software and IT-Hardware professionals in November'09 compared to the previous month, it said.