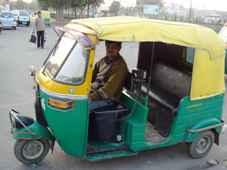 As part of Karnataka government's effort to bring down pollution levels, it will be mandatory for autorickshaws to have environment friendly engines and run on LPG, besides sporting the green colour.
Transport minister R Ashoka said on Thursday all new autorickshaws registering in the city should be 'green'.
"These vehicles should not only be painted green, but have environmentally friendly engines and run only on LPG and petrol and not on diesel or kerosene," he said.
Next to government-run buses, autorickshaws are the main mode of transport in Bangalore, where private taxis are yet to make their mark.
"We would (formally) unveil green autos on November 26," Ashoka told reporters here. In fact, 500 'green autos' are already plying in the city, he said.
He said the main bus terminal of Karnataka state road transport corporation in Majestic area would be shut down for three years due to work on Bangalore metro project.
A total of 20 of the 35 acres there would be handed over for construction of the metro, he said.
Buses to different destinations in Karnataka would run from other points in the city like Shantinagar from this week, he said.