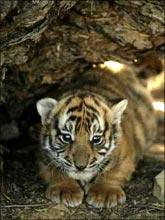 If animals could talk they would tell mankind to wake up and act in time to save the planet from the looming threat of global warming, says a climate activist group that is urging people to take a closer look at the current burning issue of climate change.
In a play staged in the capital recently, artistes took on roles of endangered species like the blue whale, female turtle and Chinese Panda to hold mock debates on the burning issue of climate change and its effect on them.
The 25-minute play 'Unheard Voices', by Delhi-based Pukar theatre group, provides a casual but compelling take on the complex and threatening problem of climate change, urging mankind to 'Act now or never'.
Discussions inside the drama revolve around serious issues like the rising sea level, increasing levels of water pollution and decreasing animal population due to global warming.
A clever mix of voices of birds recounting their misery provides an effective background to the narrative and a witty exchange of words between a tiger and a penguin keeps the drama from slipping into tedium.
"We have tried to deal with a serious business in a casual way, aiming more to make the common man aware of the impact of climate change on the animals," says director Aditya Uppal, who has penned the drama.
The play is part of Climate Satyagraha,' an initiative by Indian Youth Climate Network, SEEDS India, and Greenpeace to bring out voices of vulnerable communities and youth in India and disseminate information.
Reva Prakash, media co-ordinator, IYCN, says, "The theatrical performance brings the plight of flora and fauna into the spotlight and reminds us humans that climate change is not only affecting the human race but many more species that cannot raise their voices."
The Wildlife Conservation Society released recently a list of some 'unsung' victims of climate change, including some species that are just now beginning to feel the effects of Earth's worsening climate situation.
These include Chiru (Tibetan antelope) which dwells on the high plateau of Tibet, Irrawaddy dolphin, native to Southeast Asia, various primate species, coral, lemmings, small rodents that live near the Arctic, buff-breasted sandpipers, or Arctic migratory birds, numerous amphibian species, lake trout, bowhead whales, which live in polar conditions in the Arctic and wolverines, which are mammals that live in cold climates around the Northern Hemisphere.
Meanwhile, the theatre group says it will stage the play at various venues inside the capital to try and create awareness at the grass roots level about its unique narrative.
"We are organising street plays, discussions and debates with experts and affected people of climate change so that common man feels aware and connected with what is going on in Copenhagen," she says.
IYCN has sent a 25 member youth delegation to attend the COP15 negotiations in Copenhagen.
"Apart from street theatre performances around the city, we will also conduct climate leadership workshops in various colleges and schools in Delhi and also screen films to create a connection between Delhiites and climate negotiations in Copenhagen," says Reva.