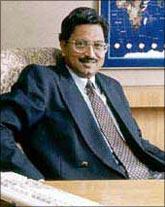 "Satyam is a challenge and we will make it work," asserted Anand G Mahindra, vice chairman & managing director of Mahindra & Mahindra, during his first press conference in April 2009 after group company Tech Mahindra acquired Satyam Computer Services (now rebranded Mahindra Satyam).
There was, however, the danger of his words ringing hollow. For one, while everyone lauded the government's role in responding with alacrity -- and the government-appointed board members introducing a semblance of business continuity -- client attrition was high at Satyam, and so was employee attrition, not to speak of senior executives leaving the company and a host of legal suits, with millions of dollars at stake by way of damages.
The global meltdown only made things worse.
Satyam's fate was in limbo from January 2008 till Tech Mahindra officially became the owner on April 20. Key clients like Coca-Cola and US-based State Farm Insurance chose to work with competitors like Capgemini and Cognizant.
To stem the exodus, Anand Mahindra and other senior management personally started meeting with key clients like Cisco, Citigroup and General Motors. C P Gurnani, now the Chief Executive Officer (CE) of Mahindra Satyam, led his team to win the confidence of clients in Europe, while Sanjay Kalra, now heading Tech Mahindra, focused on the US market.
The plan worked. Clients saw reason, and many of those who were in a wait-and-watch mode supported the company. In the last five months, the company says it has added 36 clients, and renewed 50 deals.
Tech Mahindra also had to address cost issues. Hence, close to 8,900 employees who had not been working on any projects for over three months, were asked to go home for six months on a reduced salary. The current headcount of the company is 35,000.
With new business coming in, employees from the virtual pool are being called back gradually.  The company also consolidated its office space by terminating lease contracts for offices in India. This move will help it save up to Rs 100 crore (Rs million) by the end of this month.
There was another grave concern. Senior executives were leaving, and many of them had built divisions verticals from scratch.
Viju George, an analyst with Edelweiss, says the "competition began encroaching into staff, with a couple of peers reportedly luring away a sizeable portion of Satyam's ERP staff and contracts -– particularly in the areas of business intelligence and data warehousing".
"Many clients have chosen to stay with the company which shows the maturity of the new management in getting its act together. Things have certainly improved for them, though they are behind their peers," says Alok Shende, founder and Principal Analysts, Acsentius. The new owners gave Satyam a new identity in Mahindra Satyam. And the company agreed to settle the Upaid legal suit for $70 million.
Analysts agree the initial uncertainty surrounding the company has been contained -- from Rs 6 per share, the stock today is trading at over Rs 100. "The role of the new management and that of the government during the initial phase is unparalleled," opines Nishant Verma, vice-president, Tholons Capital.
Margins would have improved relatively given the downsizing Satyam went through, says Verma. He, however, cautions that employees of Satyam may get better opportunities as the economy improves.
Mahindra Satyam still has to face 13 Class Action Law suits filed in the US. Analysts peg the cash outflow for these cases to be around $100 million. Satyam also has to get large marquee outsourcing deals, and is yet to restate its accounts which will give investors a good picture of where the company stands.