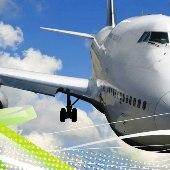 With the economy showing signs of revival, the country's travel industry is betting big on a strong demand upsurge for the coming holiday season as Indians gear up to head for international destinations like Malaysia, Singapore, Australia and Thailand.
Leading travel agencies say they are already seeing a large number of families inquiring about their holiday trips, both domestic and overseas, around the last week of this year and first week of 2010.
Most sought after domestic destinations this season are Kerala, Goa, Manali and Shimla while global travellers are going to Malaysia, Singapore, Australia, Thailand and Hong Kong during Christmas holidays, they say.
Some travel agents have also slashed their prices for this season by up to one-fourth to attract those still cautious to spend big bucks on their holidays.
"Travel industry is one of the few sectors that is recovering from recession very fast, as people are willing to spend on holiday trips a lot more than last year," says Kashmira Commissariat, chief operating officer (outbound division) of leading travel service provider SOTC.
"People are looking at the current situation as an opportunity to avail the best deals that were not available before and may not be available in the future. Keeping this in mind, most of the companies have slashed their prices by 20-25 per cent as compared to last year," commissariat told PTI.
According to Karan Anand of another major travel firm Cox and Kings Ltd, travel activities have gone up this year, especially this holiday season, and bookings for tour packages have increased by about 20 per cent over the last year.
"Traditionally, during winters, hoteliers and tour operators increase rates in India and abroad because it is the second-largest holiday season after summers as school kids get a long break.
However, this time around, travel package rates are cheaper," says Anand, head of relationships and supplier management, Cox and Kings (India) Ltd.
"Travellers are keen on taking advantage of attractive offers, so a large number of people are opting for a holiday and the whole travel industry is doing exceedingly well. The booking trends are also quite positive," Anand says.
Describing the tour packages, he says, "Our pricing is very competitive and we are offering a number of attractive packages both nationally and internationally, especially for the New Year celebrations."
According to Commissariat, the number of value additions to a tour package for the same price has also gone up.
"For instance, a trip to Hong Kong now come with free Disneyland tickets, meals and free transfers from one location to another," she says. SOTC is also providing special tour packages like 11 days trip to Australia for Rs 98,199, seven days to Mauritius for Rs 26,190, five days to Hong Kong for Rs 21,790 and four days trip to Dubai for Rs 14,990. Kuoni India is offering a four-day trip to Singapore for Rs 35,500.
Kruti Sharma from Thomas Cook, which has also come up with various special packages, says, "Discounts and price of the package vary and depend on the choice of destination, number of days, category of accommodation, etc.
"Recession was a passing phase, although in the beginning we recorded marginal loss but now people have recovered from the shock and booking for this holiday season is very good. We are hoping to recover all the initial losses this December." Thomas Cook is also providing many affordable packages to New Year revellers back home.
In India one can go to Ranikhet for four days spending Rs 11,450, a five-day trip to Auli costs Rs 18,115 while camp holidays are available for Rs 10,300.
Thomas Cook's 10-day trip to Australia is for Rs 1,12,999, seven-day tour to Singapore Rs 42,499 and a seven- day visit to Mauritius is for Rs 57,699. Packages for destinations like Mussorie or Nainital would cost a person Rs 4,500-5,500 while a trip to Jim Corbett National Park is for Rs 9,000-10,000.