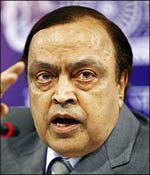 With finance ministry's defiance pushing fuel retailers into red, oil minister Murli Deora requested Prime Minister Manmohan Singh on Monday to immediately issue over Rs 20,870 crore (Rs 208.7 billion) worth of bonds to state-run firms to make up for losses they incurred on fuel sales.
"I met Prime Minister with a request that oil bonds worth Rs 20,872 crore (Rs 208.72 billion) be issued immediately," Deora said.
Though the government had earlier this year explicitly decided to compensate Indian Oil, Hindustan Petroleum and Bharat Petroleum for the losses they incur on selling domestic liquid petroleum gas and kerosene through public distribution system by way of oil bonds, the finance ministry has not issued any bonds for the three quarters.
The three firms lost Rs 11,853 crore (Rs 118.53 billion) in revenues on not being allowed to raise LPG and kerosene prices in line with the cost during April-September.
An additional Rs 9,019 crore (Rs 90.19 billion) revenue loss is estimated for the third quarter ending December 31, 2009.
Deora had on at least two occasions written to finance minister Pranab Mukherjee for issuance of oil bonds but the ministry did not provide any sum towards this in supplementary demands of grant (extra spending) that it got approved from Parliament this month.
"We have not got any bonds in the last three quarters. It is not possible to continue like this," Deora said pointing to BPCL and HPCL reporting net losses in Q2 while IOC barely making a profit.
The government had this year decided to make good all of the revenue lost on sale of domestic LPG and kerosene through issue of oil bonds, while the same on petrol and diesel was to be met by upstream firms like OIL and Natural Gas Corporation.
"Finance ministry has informed that the compensation to oil companies has not been covered in the First Supplementary Demands for Grants (or additional spending) which has been presented in Parliament on December 8," an official said.
The three firms currently lose Rs 3.49 a litre on petrol, Rs 2.38 per litre on diesel, Rs 18.13 a litre on kerosene and Rs 250.67 per LPG cylinder, he said.
They are projected to lose about Rs 45,000 crore (Rs 450 billion) in revenues in full year. The official said under-recoveries or revenue loss on petrol and diesel amounting to Rs 4,003 crore (Rs 40.03 billion) had been compensated by ONGC, Oil India Ltd and GAIL India Ltd through price discounts on crude oil and products sold to retailers.
The government, which had last fiscal issued oil bonds worth Rs 71,292 crore (Rs 712.92 billion), has not issued any bonds to the three PSUs for revenue losses during the current fiscal.
Non-issuance of oil bonds had led to HPCL and BPCL reporting net losses in the July-September quarter. HPCL reported a net loss of Rs 136.68 crore (Rs 1.36 billion) in the second quarter, while BPCL posted a net loss of Rs 158.77 crore (Rs 1.58 billion).
IOC was slightly better off, registering a net profit of Rs 284.36 crore (Rs 2.84 billion).
Meanwhile, the finance ministry said that it is examining the issue. "We are examining what will be the exact number, what will be the optimum method of sharing the under-recoveries and finally the Government will take a call," finance secretary Ashok Chawla told CNBC TV18.