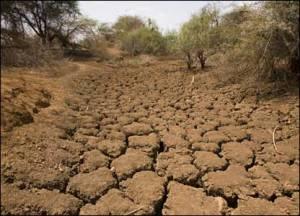 India faced the curse of drought and floods in 2009 that saw consumers paying towering prices for vegetables, pulses, sugar and foodgrains, and the shortage of supplies punctured the euphoria over the return of the Congress-led government in May.
The agriculture sector, which had a record run during the last two years in terms of foodgrain output, failed to match even last year's production level, much less set a new record, as half of the country was hit by drought -- the worst since 1972, although 1979, 1987 and 2002 were also bad years.
The south-west monsoon skipped its annual visit to as many as 316 districts in 13 states, hitting farm production.
The government swung into action and announced diesel subsidy and additional electricity supply to power ground water pumps to save standing crops, besides rescinding its decision on wheat exports.
The curse is that over 60 years after independence, 60 per cent of the farms depend on rains for crops and the country lacks modern warehouses or cold storages.
Just as the government finished one chore, late rains caused floods in four major food producing states (Andhra Pradesh, Gujarat, Karnataka and Maharashtra).
The twin impact of drought and floods resulted in a loss of 21 million tonnes in Kharif (summer)foodgrain production, largely because of an over 15 million tonnes drop in rice output, and some impact on economic growth.
Though the Centre maintained that it had sufficient foodgrain stocks to run ration shops for 13 months, food inflation galloped to a more than 10-year high of 19.95 per cent towards the end of the year.
Onions brought tears to the eyes of consumers even without peeling one, potatoes prices were too hot to be edible and sugar left a bitter after-taste at Rs 40 a kg.
The United Progressive Alliance-II, which rode back to power on promises like National Food Security Act to provide every family living Below Poverty Line 25 kg of rice or wheat per month at Rs 3 a kg, came under attack from opposition parties on many occasions in Parliament for its failure to control rising food prices.
On an annual basis, potato prices zoomed 136 per cent and pulses became costlier by over 40 per cent.
Onion prices rose by 15.4 per cent. Other food items that became dearer include wheat 14 per cent, milk 13.6 per cent, rice 12.7 per cent and fruits 11 per cent. Lentils like Tur cost almost Rs 100 a kg -- the reason being short supply.
The Centre tried to defend by passing the blame to States for not acting against black marketeers and hoarders. Besides, the government argued that there was a sharp jump in the minimum support price of wheat and rice in last five years, which is bound to have an impact on retail prices.
Even this year, the paddy MSP was raised by Rs 100, including bonus, to Rs 1,000 a quintal for common variety.
It, meanwhile, scrapped import duty on rice and sugar, banned futures trading on sugar and decided to offload rice and sugar in the open market to cool the prices of these commodities.
As a long term policy measure, the Centre introduced a fair and remunerative price for sugarcane farmers that factored in risk and profit elements along with the cost of production.
The decision was to encourage farmers to increase sugarcane area. FRP was fixed at Rs 130 a quintal for 2009-10 season, almost Rs 50 more than last year.
As regards pulses, the government pointed out that pulses output in the country has remained stagnant for last one decade and imports are not happening despite zero-duty because of limited availability overseas.
However, amid these negativities, the prices of cooking oil remained at reasonable level as zero-import duty regime pushed imports of vegetable oils to a record 8.6 million tonnes in 2008-09 season ending October this year.
Besides supplying wheat, rice and sugar through PDS, it has started supplying imported edible oils and pulses through ration shops from last year itself leading to a sharp jump in food subsidy, which is expected to cross Rs 60,000 crore (Rs 600 billion) this fiscal from about Rs 19,000 crore (Rs 190 billion) in 2004-05.
"Food prices are going up and this is an area of concern. We have to take appropriate measures to see what best could be done by augmenting the supply through imports," finance minister Pranab Mukherjee had said on the day when food inflation almost touched 20 per cent.
Food and agriculture minister Sharad Pawar had recently said that food prices are expected to come down after Rabi harvest starting March next year.
The government is betting high on Rabi season.
It is targeting an additional 8.5 million tones of foodgrains production to partly offset losses incurred in Kharif season.
But India's food sector is one of complex mathematics. As Pawarput it recently 'it is not easy to feed 17 per cent of the world's population with only six per cent of the total land and three per cent of water.'