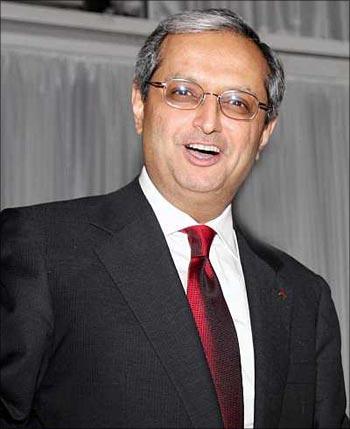 The US financial crisis and the resultant economic downturn pushed many a top honchos out of their corner rooms in 2009, but Citigroup's India-born chief Vikram Pandit continues to steer the once financial colossus out of its biggest ever crisis.
The flood of Uncle Sam's dollars not only shored up the fortunes of ailing companies but also washed away many of once flamboyant CEOs, including General Motor's Rick Wagoner.
Weathering the storm of disgruntled investors, dissatisfied regulators and bifurcation, India-born Pandit still remains to tell the tale of Citi.
The feather in the otherwise thorny crown of Pandit came with partly US-owned firm recently moving to repay bailout funds of $20 billion. The US government had pumped in $45 billion into the entity and also holds 34 per cent.
In the case of Bank of America, irate shareholders stripped Kenneth D Lewis of his chairmanship leaving just the mantle of CEO. Lewis, mainly accused for pushing the bank into the brink, is to leave that post also by year-end.
American giants like GM, American International Group, Fannie Mae and Freddie Mac that received US largesse, saw their chiefs come and leave in a flash. The latest being former GM boss Fritz Henderson, who was forced to drive out of the restructured car maker.
Reminding that many American corporate honchos at rescued companies are on a sticky wicket, over ten CEOs have either exited or announced retirement plans.
Apart from Pandit, among the chiefs of bailed out firms, Chrysler Financial CEO Thomas F Gilman remains at the helm.
Pandit's tenure at Citi's top has been strewn with brickbats and even the tag of being named one of the worst CEOs in America by a publication. The tide seem to have turned with the company swinging into profits earlier this year.
He was anointed at the helm of Citi in December 2007, at a time when the company was staring at huge mortgage lending-related losses and writedowns. After taking $45 billion from the Federal government, Citi under the leadership of Pandit has trimmed its workforce, operations and revamped its top management extensively.
Citigroup in January, had to split into two -- Citicorp and Citi Holdings. Citicorp includes retail and investment banking, other has brokerage and asset management businesses.
His words while announcing Citi's decision to repay US funds, summed up the scene for both him and Citi: "We (Citi) owe the American taxpayers a debt of gratitude and recognize our obligation to support economic recovery through lending and assistance to homeowners and other borrowers in need."
In March, GM, then on government support, saw its chief Rick Wagoner being pushed out of the company by the Obama regime.
Then came, Henderson, who exited last month. Another car maker Chrysler witnessed its CEO Robert Nardelli announcing retirement in April. Since then, Chrysler has merged with Italian auto maker Fiat, after emerging from bankruptcy.
The once-mighty insurer AIG's chief Edward M Liddy went into retirement in May.
Mortgage lenders Fannie Mae and Freddie Mac together gulped down over $100 billion of bailout money. Fannie Mae's Daniel M Mudd was shown the door immediately. His successor -- Herbert Allison -- too did not last for long and was replaced by Michael Williams in April this year.
Freddie Mac CEO Richard Syron also lost his job after the rescue and was replaced by Charles Haldeman in July. An India-origin CEO Ramani Ayer who steered the bailed-out Hartford Financial Services Group for 12 years, too would be stepping down by the end of this year.
Ayer, who was crticised for pushing the firm into riskier financial products, had announced his decision in June. The company had got over $3 billion in Federal funds.
About Pandit, the New York Times said earlier this year that it was "questionable how many executives, inside or outside Citigroup, would want to replace him. Citigroup is increasingly under government control.
"Prodded by regulators, the company already has sold businesses, shaken up its board, curbed bonuses and cut the use of corporate jets," the daily had reported.
Now, as the year draws to a close, Citi is likely to face the storm of Dubai debt crisis, the region where the company under Pandit had made huge investments.
"And unlike the mortgage mistakes, which can be blamed on past management, the rush to profits in Dubai happened under Pandit, the bank's current CEO," Time magazine said.