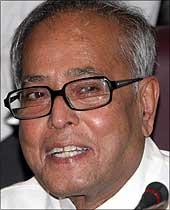 Finance minister Pranab Mukherjee on Wednesday ruled out an immediate withdrawal of the stimulus packages, but cautioned that too much delay in the exit would widen the fiscal deficit.
Recalling his interaction with Japanese Prime Minister Yukio Hatoyama earlier this week, Mukherjee said exiting the accommodative stance would not be a correct approach at the moment and the government was trying to strike a right balance between the requirements of the economy and its capacity to bear this level of fiscal deficit.
"Fiscal stimulus has led to high fiscal deficit. . .This cannot be sustained for a longer period . . .Exit policy may not be the correct approach because in that case if the world economy collapses the depression would be deeper," Mukherjee said at an award function by Corporation Bank.
The finance minister said he has told the Japanese prime minister that countries had spent huge amount of money in stimulus packages to help the economies which has resulted in high fiscal deficit in almost every country and also greater borrowing which have propensity to leave little resources to the private sector.
The stimulus packages given by the government in the last one year to help the economy fight the slowdown are projected to widen the fiscal deficit to 6.8 per cent of the gross domestic product this financial year, against 6.2 per cent in 2008-09.
The government is targeting a fiscal deficit of 5.5 per cent of GDP in 2010-11 and 4 per cent in 2011-12. The Fiscal Responsibility and Budget Management Act required the government to bring down the fiscal deficit to 2.5 per cent of GDP by 2008-09.
"We are working with the Reserve Bank of India to ensure that government borrowing does not elbow out private demand," Mukherjee added.
The finance minister also said credit availability was important and it had to be improved. He said some steps have already been taken to address the credit requirements of different sections of the economy.
Corporation Bank chairman and managing director JM Garg said credit flow to most sectors had improved and there was abundant liquidity in the system.
He said banks might not tinker with the interest rates even if RBI increases the cash reserve ratio or repo rate in its quarterly review of the monetary policy in January.
Image: Pranab Mukherjee