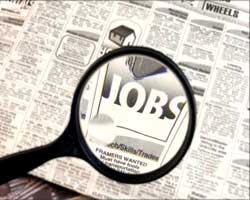 India Inc's improving results scorecard for the July-September quarter of 2009-10 is bringing the smiles back on the faces of the students and faculty members of management schools. They believe these companies will be back on the campuses in increasing numbers this year.
However, not willing to leave anything to chance this year, B-schools plan to approach more companies this time round for the final placements which will begin in December on most campuses. The number ranges anywhere between 25- and 65 per cent.
At the Mumbai-based KJ Somaiya Institute of Management Studies and Research, for instance, the placement cell is geared up to extend invitations to over 500 firms against 300 odd last year.
"Last year, till March only 60-70 companies came to the campus for placements. However, this year we expect the number to be as high as 120 companies. Since we don't want to take any chances, we are inviting more number of companies," says ND Sharma, placement co-ordinator, at the SIMSR.
Another Mumbai-based institute, the National Institute of Industrial Engineering (Nitie), has seen interest reviving from the financial sector -- specially banks. The institute, which approached around 200 companies last year, says it might 25 per cent more companies on the campus.
Last September, post the collapse of investment banking major Lehman Brothers, many B-schools received regret letters from financial sector companies withdrawing either the pre-placement offers made to students or denying participation on the campus for placements.
This forced many institutes, including the premier Indian Institutes of Management, to approach more number of companies. But with the economy still in a recovery mode, the trend, say placements officers, would continue at least for this year.
Taking a relook at their placement strategy, few IIMs had even renamed their placement cell as "career development and placement cell" and recruited a new person dedicated to look at placement and career development-related activities and liaison with companies.
Sapna Agarwal, head of career development services at IIM-B says companies are non-commital on the number of students they will hire.
"Traditionally we invited 60-70 companies for final placement, last year we invited 107 companies and we will invite around the same number this year. New companies that came last year will be invited again this year," says Agarwal. The institute will place 260 students this year.
Bhubaneshwar-based Xavier Institute of Management, expects final placements to be wrapped up in a week this time, according to Naveen Agarwal, placement co-ordinator.
Companies across sectors -- from IT, FMCG, telecom and banks -- which went slow on hiring last year are waking up. If a company hired 3-4 students in the previous batch, it is making 5-6 offers this year. Summer placements are offers for a two-month internship.
For final placements, 54 companies had visited the campus last year which also expected to touch 65-70 companies thie year. Companies that have hired from the institutes on a regular basis include Cognizant, Wipro, IBM, Marico and Securities and Exchange Board of India.
At Ghaziabad based Institute of Management Technology, the average number of companies that the institute looks for is around 100 to place the entire batch of 421.
Summer internships, which began in September for the institute, is still on. "Things are looking better among corporates and we got a good response from them. However, students are still cautious and are yet to get over last year's jolt and their skepticism is justified," said Prakash Pathak, head of corporate relationships at IMT Ghaziabad.
Besides the regular BFSI, telecom and FMCG companies, IMT Ghaziabad also got new recruiters like real estate firms and education companies. Kellogs and L'oreal are some of the FMCG firms that have come to recruit this year.
Additional reporting by Chitra Unnithan & Vinay Umarji in Ahmedabad and Kirtika Suneja in Delhi