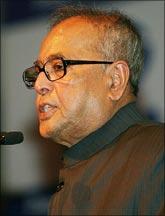 The government on Tuesday said inflation is not an immediate concern and will continue with the fiscal stimulus measures till the economy recovers fully.
"For the present, I maintain that the fiscal stimulus will have to continue, to allow its impact to fully through the economy...," Finance Minister Pranab Mukherjee said at the Economic Editors Conference in New Delhi.
Mukherjee's assertion to continue with fiscal stimulus comes within days of the Reserve Bank starting the first phase of exit from accommodative monetary stance on October 27 by raising the amount of money that banks have to keep in gold, cash and government bonds by one per cent age points.
Mukherjee, however, said that it was imperative to return to fiscal discipline "as soon as the current economic circumstances permit us to do so".
He said the government is "looking quite closely" at steps to cut non-Plan expenditure, especially subsidies on fertiliser and petroleum products. The fertiliser subsidy alone is projected to be Rs 55,000 crore (Rs 550 billion) for this fiscal.
Mobilisation of additional resources through disinvestment should also help the government consolidate its finances as the fiscal deficit started shooting up for 2008-09 and for 2009-10 under the impact of a series of stimulus packages.
Though inflation has started moving up and according to RBI estimates it may touch 6.5 per cent by March-end. Mukherjee said "there is no dearth of liquidity in the economy and inflation as yet is not a pressing area of concern".