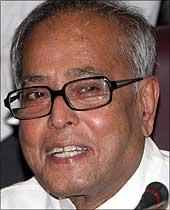 Finance minister Pranab Mukherjee on Tuesday signalled that the government's economic reform strategy would focus on fiscal consolidation, debt management and mobilising additional resources through divestment proceeds.
The emphasis would be on curbing subsidies and promoting private sector investment by continuing stimulus measures.
Mukherjee was addressing the Economic Editors' Conference, which he termed his last policy statement before the Budget.
He made it clear that though the government would focus on inclusive growth, it was also looking at steps to curtail non-Plan expenditure, especially subsidies on fertiliser and petroleum products, indicating a possible rise in auto and cooking fuel prices in the future. 
These measures are expected to help put the government back on track fiscally. "We are on track to achieve the targets on fiscal consolidation indicated in my medium term fiscal policy statement," said Mukherjee.
The fiscal deficit is expected to come down from 6.8 per cent of GDP in 2009-10 to 5.5 per cent in 2010-11 and further to 4 per cent in 2011-12. Correspondingly, the revenue deficit is expected to decline from 4.8 per cent of GDP in 2009-10 to 1.5 per cent in 2011-12.
Earlier in the day, the finance minister called for ramping up infrastructure spending by the South Asian economies as a measure to combat the impact of the global financial crisis in the region.
Calling infrastructure development an 'urgent necessity' for South Asian nations, Pranab Mukherjee said that removing infrastructure gaps in the region could generate 'billions of dollars of new output'.
He said the government was looking at setting up more regulators in the infrastructure sector.
On a day the market fell 3.5 per cent, Mukherjee sent out a positive signal, stating that foreign institutional investors, who had recorded net outflows in 2008-09, have returned to the Indian market in the last five months.
"There is no dearth of liquidity in the economy and inflation as yet is not a pressing area of concern," he said.
The recent months have witnessed some clear signs of a turnaround in the growth rate. In the first quarter of 2009-10 the economy grew 6.1 against 5.8 per cent in the preceding two quarters of 2008-09.
The Index of Industrial Production improved considerably in June and July 2009, with growth increasing to 8.2 per cent and 7.2 per cent respectively, followed by 10.4 per cent in August 2009.
Image: Pranab Mukherjee