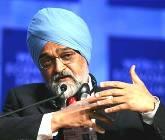 Reasserting the fact that India could easily attain a growth rate of above 7 per cent in the next financial year, Planning Commission deputy chairman Montek Singh Ahluwalia said on Sunday India was not extensively dependent on the global economic recovery for its own growth projections.

"Until and unless the world shoots off its foot, India can quietly achieve good growth (7 per cent and above). Our growth was not extremely dependent on exports and it will continue to be so. India is the next country off the block after China, Japan and Korea," Ahluwalia said at the India Economic Summit here.

He gave this argument even as other panel members like Asian Development Bank managing director general Rajat M Nag said growth rates of China and India would largely depend on the growth taking place in the developed western world.

He further said rollback of the government's fiscal stimulus would take place only in the early part of the next financial year and after receiving indications that the economy was on a firm road to recovery.

Wind down stimulus: Raghuram Rajan

Meanwhile, noted economist Raghuram Rajan said the government should begin to winddown the fiscal stimulus, though the Indian economy had not reached the high-growth trajectory.

"I think it is quite appropriate to think about winding it (fiscal stimulus) down, even though we may not have gone back to 9 per cent growth rate," Rajan, a former economist at the International Monetary Fund, said at the summit.

He said the country needed more fiscal space to deal with 'unexpected eventuality'.
"When we look at our fiscal deficit and debt level, we really need more space to deal with unexpected eventuality. . .There are limits to government spending," he added.
Image: Montek Singh Ahluwalia