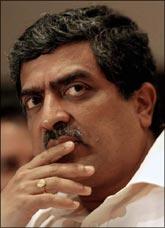 The Unique Identification Authority of India may take all 10 fingerprints, besides an eye scan, of all residents in rural India to avoid loss of physical identification due to harsh working conditions.
According to officials, one of the problems that the UIDAI is trying to counter is the erosion of fingerprints of people who are involved in heavy physical labour or eyesight being affected over a period of time.
Current deliberations are on to see what kind of biometrics should the UIDAI ask for before providing a 16-digit unique number to each resident of the country, they said.
A biometrics committee led by B K Gairola, director deneral of National Informatics Centre, has been set up to figure out the options that could be used for the purpose.
The committee is looking at taking all 10 fingerprints or going in for an eye scan of people besides some other measures for feeding their biometrics in the UIDAI database, the officials said.
While in metros and urban areas, the agency could go in for either mode of biometrics, it could be forced to do two different biometrics for rural India, they said.
"The hard physical work that the villagers usually put in results in their fingerprints being eroded over a period of time. In case of eye scan, eye sights or surgery or accident can make the biometrics non-usable. So we might have to take both samples for rural India," the officials said.
They said the committee have ruled out collection of DNA samples because 'taking DNA could become a personal issues for many, besides it is an expensive and time consuming affair. Moreover, it is also practically difficult to take DNA samples every time one needs identification'.
UID would be given to infants also, but since their fingerprints are not developed in such early stage, mother's fingerprints would be taken, they said.