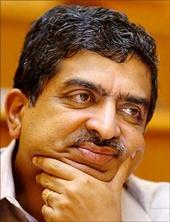 Being superstitious you may succeed in getting a number of your choice -- whether it's mobile phone and motor registration et al by shelling out more or using your influence or some other means.
But don't count on those things to come to your help when you apply for Unique Identification number. Computer would throw up a random 16-digit number and there is no way you can change it.
Chairman of the Unique Identification Authority of India (UIDAI) made this clear at the BangaloreIT.Biz 2009 conference here, where he delivered a "Vision 2020 - Leadership Series" address.
An audience member asked during a question and answer session after the address -- would there be a scheme by which he (who is superstitious) can get a special ID number?
"No special number. Take the number you get", Nilekani said. "Number will be numeric; it will be 16-digit number".
Another asked what was the first "difficulty" or "challenge" after he took the UIDAI assignment -- a "hot chair" as he put it -- after quitting Infosys Technologies where he was Co-Chairman.
Nilekani said being from "outside" the government, there were certainly challenges to "adjust to that (government). "I am confident that I will be able to figure out how to navigate through these different (government) systems".
UIDAI to appoint consultant
Also, The UIDAI would soon appoint a consultant to help identify a company which would manage the proposed Unique Identification data centre, Nandan Nilekani said.
"We will shortly be appointing a consultant to help us identify a company who will manage the data centre," he said at the BangaloreIT.Biz 2009 conference.
According to UIDAI, the body aimed at implementing the ambitious programme aimed at giving a unique identity to each citizen, the database would be stored on a central server and enrolment of residents would be computerised.
Nilekani said the data base management would be outsourced to the company (after the consultant helps UIDAI identify it) which would operate as a depository -- similar to CDSL and NSDL operating as stock depositories.
He said the biometrics committee and the data standards and verification committee, appointed by the UIDAI, would submit their reports in a couple of months.
Nilekani said UIDAI was looking at global best practices and experiences to be incorporated in its UID project. Earlier this week, it held a two-day workshop where teams from UK, Nigeria, Bangladesh, Columbia and Mexico shared their experiences.
"UIDAI is looking at what's it that they (these countries) have done, what lessons to be learnt from them and what not do do," he said.
UIDAI would come out with a manual within six months on how to make systems UID-ready, Nilekani said.
The first set of UID numbers was aimed to be issued within 12 to 18 months from August 12 this year, and as many as 600 million Indian residents were targetted to be covered in around five-and-half years from now, he said.
Nilekani said "getting a billion people enthused about this (UID) number and getting them enrolled is a massive logistical and communication challenge. Challenge is to build a database of a billion people".
The identification authority has not "fixed" any project cost on issuing UID numbers but if one looked at benefits in terms of societal and efficiency in improving the quality of public service, "whatever investments, would be well worth it".
Nilekani pointed out that it would be a one-time investment, while "benefits are in perpetuity".