The Ruias' Essar Group is to acquire a 51 per cent stake in the telecom operations of the Dhabi Group, an investment company led by Abu Dhabi's royal family, in Uganda and Congo for around $150 million (Rs 692 crore).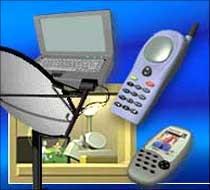 In Dhabi's Warid Telecom Uganda and Warid Telecom Congo, Essar Telecom will invest for the growth capital that will help to enhance network and improve marketing. Upon completion of the investments, Essar will acquire a majority stake in both the assets, said the company in a statement.
The agreements were signed by Sheikh Nahyan Mabarak al Nahyan, chairman of the Dhabi Group, and Prashant Ruia, Group Chief Executive of Essar in Abu Dhabi today. The enterprise valuation of the Uganda and Congo operations is collectively put at $318 million, said the company.
Already with a presence in Kenya's telecom sector through a brand called 'Yu', Essar is looking to strengthening its foothold in the rapidly growing African market. Interestingly, two powerful telecom majors in India, Sunil Mittal's Bharti Airtel and Anil Ambani's Reliance Communications, have failed to seal a deal in Africa despite repeated attempts to merge their firms with Africa's largest player, MTN.
However, another conglomerate, the Tata Group, is expanding its base in Africa through organic and inorganic routes. Africa's Neotel, in which Tata Communications has a 56 per cent stake, is looking to raise about $1 billion to invest in expansions.
On the stake sale to Essar, Sheikh Nahayan said, "We are pleased to join hands with a Group that both complements and extends our synergies to expand further into Africa.
Warid has expanded its greenfield operations to become credible competitors and challengers in the market where it operates; the time is now right for the next stage of its growth and evolution." Standard Chartered Bank acted as exclusive financial advisor to the Dhabi Group.
Said Prashant Ruia: "Essar is delighted to partner with the Dhabi Group to expand Essar's telecom operations in Uganda and Congo. This is in line with Essar's plan to be a part of the growing telecom market in Africa. This transaction with the Dhabi Group augments our successful launch of telecom services in Kenya under the Yu brand, which was a stepping stone for Essar to expand its telecom footprint to the African continent."
In the statement, Essar Group said its investment in Warid Telecom in Africa is a part of its strategic plans to grow its business there. This deal is a reflection of Essar's plans to increase its presence in the Middle East and Africa, as it explores business opportunities by forging partnerships with prominent business groups.
Essar holds a 33 per cent stake in India's major mobile telephone service provider, Vodafone Essar. MobileStore, a retail chain of Essar, has over 1,300 stores spread across 200 cities in the country. The Group owns Essar Telecom Infrastructure, one of the largest independent telecom tower infrastructure providers in India. Its Kenyan telecom arm has over 0.6 million subscribers.