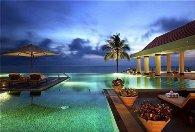 If you were planning to spend Christmas or New Year's Eve at exotic locations in Goa or Kerala but haven't done the required bookings for it yet, chances are that you can't go.
Most of the top properties in these two locations are already reporting a "full-house" for that period.
The robust bookings are in spite of the travel advisories issued by almost all western and pacific countries over a month earlier, cautioning their citizens against travel to India during the peak tourist season due to terrorism threats. The central government had also spoken recently about terror threats to popular tourist destinations.
Rajiv Kaul, senior vice president, Hotel Leelaventure, said: "We are already sold out for the Goa property and the one at Kovalam (in Kerala) is more than 90 per cent full for the period. Apart from the continued influx of international tourists into the country, there is a strong interest from the domestic market as well. Beach resorts have marked the strongest of comebacks from the lows of last year."
The company owns and runs The Leela Kempinski Goa, a premier luxury hotel property situated at the shores of the Cavelossim beach in South Goa.
Hotel chain operators say bookings for the final 10-15 day period of December gathered pace only two to three weeks ago.
"So far, November has been very good but bookings for December, including dates, which are other than the ones usually in demand, are happening at a very healthy pace," says Keshav Baljee, co-promoter of the Bangalore-based Royal Orchid Hotels.
This heightened activity has brought welcome relief to the battered industry, which was struggling with lower occupancy while being forced to hold back any hike in room rates just a few months earlier.
The tourist season last year was especially challenging, with hoteliers having to bear the twin brunt of the global economic collapse and of the Mumbai terror attacks.
Unofficial figures indicate hotel occupancies were then down to 30-40 per cent in the top destinations, which usually boast over 60-75 per cent occupancy. This was further hit by the outbreak of the H1N1 virus (swine flu), which forced many hoteliers to reduce their average room rates, too.
Now, business travel seems to have also picked up and some properties have increased rates already.
Shobu Mathew, vice president (marketing), The Lalit, says: "There are lots of conferences and meetings taking place in our property, apart from a sheer increase in the number of weddings, especially from the NRI segment. We are just back from a summit in London and definitely the charter arrivals are expected to go up significantly. We had to increase our rates, too, due to the demand. Things are definitely looking brighter than last year."
According to an industry insider, charter flights from Russia have witnessed a rise of 35 per cent so far in Goa, though the lead country remains the United Kingdom.
And, even in the aftermath of the financial downturn, customers have not scaled down their quality of stay.
"People are preferring to stay for a day or two less at their preferred destination rather than compromise on the quality of their stay. There is no perceptible shift of any such kind," said a sector expert.