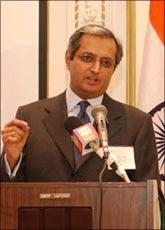 Citigroup chief executive Vikram Pandit will take home a salary of only $1 this year. He had in January said that he would accept only $1 as pay till the bank turned in profits.
He will also not get any stock options this year, even as the beleaguered banking major labours under the burden of a government bailout.
However, the bank's two other top executives -- the CFO and the co-head of global markets -- have got pay hikes.
Citibank chief financial officer John Gerspach saw his pay rise from $400,000 to $500,000. He was also given company stock worth $2.92 million.
James Forese, the bank's co-head of global markets, will get an annual pay of $475,000 as opposed to $225,000 earlier, apart from stocks worth $5.44 million.
Citibank vice chairman Stephen Volk also got $3.4 million in company stock. His salary has not be raised and will remain at $500,000.
The bank's personnel and compensation committee approved the raises for annual base pay, according to a filing with the Securities and Exchange Commission on Tuesday.