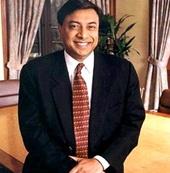 Signalling end of his oil and gas odyssey, steel magnate Lakshmi Mittal has pulled out of a project to develop an oil field in Kazakhstan in partnership with Oil and Natural Gas Corp and is looking to sell his stake to another company.
Days before the joint venture of ONGC Videsh and Mittal Investment Sarl was to sign agreement for taking 25 per cent stake in the Satpayev oilfield in the Caspian Sea, the holding company of Mittal family decided to pull out of the Kazakhstan block, sources in know said.
It has also decided to sell 50 per cent stake in Caspian Investments Resources, which produces less than 40,000 barrels per day of oil from four fields in Kazakhstan.
Mittal, in April 2009, walked out of an exploration block ONGC-Mittal Energy Ltd -- one of the two joint ventures he formed with the state-run firm for a foray into oil and gas space in 2005, had won in Trinidad and Tobago.
In Mumbai, ONGC Chairman R S Sharma confirmed Mittal's pullout. OVL had anticipated such a move and had a few months back sought Cabinet approval to invest all of the $400 million in the Satpayev on its own in case Mittal walked out.
Sources said Mittal has had strained ties with ONGC as the state-run firm look little interest in ONGC-Mittal Energy Services Ltd - the alliance for energy trading and shipping. These reflected in Mittal dumped OVL to acquire stakes in oil firms like CIR and Ophir Energy in regions that were exclusively reserved for OMEL to operate.
OMESL has since been collapsed in OMEL. OMEL has assets in Nigeria and Syria and has not bid for any oil property in long time.
Sources said Mittal, two years back, used the Kazakh government to muscle its way into the Satpayev oilfield where OVL was shortlisted for a stake. OVL relented after Kazakh made it a pre-condition for it to come with Mittal for a 25 per cent stake and subsequently got investment approvals from the Cabinet.
But, Mittal have since decided to exit all oil and gas projects in Kazakhstan.
Sources said Mittal is also looking at selling its interest in CIR, in which it had acquired 50 per cent stake in April 2007 from Russian oil firm LUKoil for $980 million.
CIR acquisition was originally to be done by OMEL but the India-born billionaire went ahead on his own citing opposition to OMEL from LUKoil.
Sources said Mittal offered the stake in CIR to OVL, which declined it, apparently because it thought the company was a sinking ship with oil production falling and actual reserves not matching the announced ones.
Mittal is now looking for buyers including those in China for its stake in CIR. LUKoil, which holds the remaining stake in CIR, may be a potential buyer.
Sharma said Mittal Investment informed of its decision to pullout of Satpayev a few days back.
"This issue (pullout) does not cause any alarming situation for us because when the (investment) approval was taken from the Cabinet, we had posed certain options for this investment," he said.
OVL had anticipated that Mittal may not continue with Satpayev and so, a few months back, had sought specific permission from the Cabinet for going ahead with investing the entire $400 million in the field on its own.
The board of OVL, the overseas arm of ONGC, met on November 17 and decided to write to the Kazakh government on Satpayev. Kazakh national oil firm KazMunaiGas will be the operator of the field, holding remaining 75 per cent stake. An Exploration and Production Contract is to be signed soon.
The Satpayev block, situated in the Pre-Caspian Basin of Kazakhstan in Caspian Sea, covers an area of 1,582 sq km.
OMEL, and now OVL, is to pay $26 million as signing amount to the Kazakhstan government for 25 per cent stake in Satpayev field. Besides, it would also pay $80 million as one-time assignment fee. Over and above these, it has committed a minimum exploration investment of $165 million and an additional optional exploration expenditure of $235 million.
Sharma said there was no conflict between the promoters and that the decision was taken in mutual understanding. OMEL will stay invested in a producing field in Syria and two exploration blocks in Nigeria. Satpayev is situated in highly prospective region of North Caspian Sea and in proximity to at least four fields. A peak output of 287,000 barrels per day is envisaged from the 256 million tons of reserves in the field.
Kazakhstan had initially identified the Satpayev and Makhambet blocks in the Caspian Sea for giving 50 per cent stake in one of them to OVL. Later, it reduced the stake on offer to 25 per cent on condition that OVL teamed up with Mittal, who has steel plants in that country.
OVL relented and in June 2007 made an attractive commercial proposal to KazMunaiGas, but in subsequent negotiations Kazakhstan's state-run firm did not agree on giving operatorship to OVL during the exploratory and appraisal stages.
CIR acquisition was originally to be done by OMEL, the equal joint venture of OVL and Mittal Investment, but the India-born billionaire went ahead on his own citing opposition to OMEL from LUKoil.
CIR owns Nelson Resources, which LUKoil purchased for USD two billion in 2005. Nelson carries out oil and gas production projects in Kazakhstan. CIR has oil production assets in the Kazakh oilfields of Alibekmola, Kozhasai, Severnye Buzachi, Karakuduk and Arman. The current production from the fields, which is stated to have total proven reserves of some 270 million barrels, is less than 40,000 barrels per day and is falling.