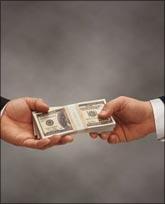 Insurance regulator IRDA is mulling to put a cap of Rs 1.5 crore (Rs 15 million) on the annnual salary of chief executives, which could be paid from the policyholders' fund.
Any salary beyond this could be paid by promoters, as per a proposal being studied by IRDA, sources said.
"IRDA is examining the CEOs salary with great details and is having discussion with insurers on putting a cap. We are told Rs 1.5 crore could be paid by the company," a source close to the development said.
The sources added that any pay-packet higher than could not come from policyholders' funds, if the proposal is accepted.
In June, IRDA chairman J Harinarayan had said IRDA is mulling to put a cap on the managerial remuneration of insurance firms. He added that there should be a limit on what the policyholders could be charged for paying compensation to the managerial staff.
The issue of CEOs salaries assume importance after some countries at G-20 meeting earlier this year had called for limiting their bonuses and tieing their salaries to long-term performance.
In India, Corporate Affairs Minister Salman Khurshid had said the government does not want to play the regulator by intervening in executive remuneration and the issue should rest with the shareholders and the board of the company.
There are more than 40 life and non-life insurance companies operating in the country.
Banking regulator the Reserve Bank is also set to come out with a guideline to regulate the pay packages of senior executives of both private and foreign banks.
The RBI currently clears the pay packages of CEOs of private and foreign banks on case-by-case basis after the compensation committee at each bank approves it.
On the other hand, the salaries of CEOs of public sector banks are set by the government.