Software major Microsoft Corporation has held talks with News Corp for a possible deal which would involve paying the Rupert Murdoch-led firm for removing its news content from the website of Internet search giant Google, says a media report.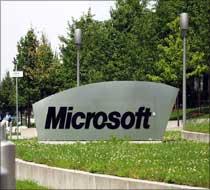 "Microsoft has had discussions with News Corp over a plan that would involve the media company being paid to de-index its news websites from Google," the Financial Times said.
News Corp, which owns newspapers ranging from the 'Wall Street Journal' of the US to 'The Sun' of the UK, had initiated the discussion, the UK daily said, adding that talks are currently at an early stage.
The report said: "Microsoft has also approached other big online publishers to persuade them to remove their sites from Google's search engine."
Both Microsoft and News Corp declined to comment.
Murdoch-led News Corp has been considering charging for providing online content to search engines and "has taken an increasingly hard line against Google," the newspaper said.
"Microsoft's interest is being interpreted as a direct assault on Google because it puts pressure on the search engine to start paying for content," it said.
Microsoft is desperate to create a mark for its own search engine Bing, which it launched in June.
"This is all about Microsoft hurting Google's margins," the daily quoted a web publisher familiar with the development as saying.
Earlier, Rupert Murdoch had said he would use legal methods to prevent Google from "stealing stories" published in his papers.
"We think that there's a very exciting marketplace, potentially a wholesale market place for digital journalism that we will be developing," News Corp chairman and CEO of Europe and Asia James Murdoch had said.
According to the report, the biggest beneficiary of the tussle could be the newspaper industry, which has yet to construct a reliable online business model that adequately replaces declining print and advertising revenues.
The talks for a tie-up between Microsoft and News Corp would set "the scene for a search engine battle that could offer a ray of light to the newspaper industry," the Financial Times said.