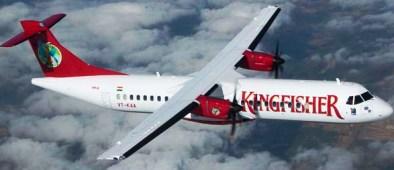 Because of mounting losses, Vijay Mallya-owned Kingfisher Airlines has returned 19 leased aircraft to lessors in the past 10 months.
Of these, 16 are Airbus and three ATR turbo-prop aircraft, according to official data.
The data of the director general of civil aviation, which publishes monthly data on registration, deregistration and change of ownership of the aircraft, showed that in December 2008, Kingfisher returned six Airbus and one ATR aircraft to the lessors.
The airline currently has a fleet of 71 planes, comprising Airbus A-319s, A-320s and A-321s as well as ATRs.
However, sources said at least 12 of its aircraft are on ground for maintenance and repairs, taking the effective fleet size to 59.
When contacted, the airline said the planes were returned as part of its planned capacity reduction programme.
"As part of a planned capacity reduction programme initiated last year, Kingfisher Airlines has returned a total of 17 aircraft between December 1, 2008 and August 12, 2009 back to lessors, " the airline spokesperson said in a statement to PTI here.
Kingfisher had in February this year announced a 21 per cent reduction in its operations due to the falling passenger demand at that time.
The airline posted losses to the tune of Rs 500 crore (Rs 5 billion) in the first quarter of the current fiscal and has a debt of an estimated Rs 6,000 crore (Rs 60 billion). It is planning to raise about $175 million before March next year.      
Kingfisher has also deferred deliveries of some aircraft and moved 70 per cent of its network to single class low fare operations.
The premier airline has in the recent past sacked several employees because of 'non-performance' but it has also lost some senior staff in the past two months.
These include vice-presidents incharge of global sales,revenue management and finance as well as those incharge of operations in southern India, industry sources said, adding these included a significant number of pilots as well.
The airline spokesperson said as part of an ongoing performance review process, employees from all functions undergo routine performance appraisal exercise.
"Those who consistently fail to meet minimum acceptable performance standards of the company are offered three months window to look for alternate career options," he said.
"Too much is being read into the normal attrition rate," the spokesperson said without disclosing the number of pilots who have left the airline in the recent past.