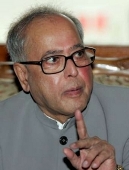 Buoyed over 22-month high industrial growth of 10.4 per cent in August, finance minister Pranab Mukherjee said on Monday it is a recovery process from the earlier slowdown caused by the global financial crisis and possibly there could be some higher growth projection.
"It is a good sign and it is a recovery, process of recovery," Mukherjee told reporters.
"We are hoping that when the final figure of second quarter will be available, perhaps there will be some higher growth. If the higher growth projection is there, then in the third quarter, fourth quarter we can make up," he said.
Industry production grew by 10.4 per cent in August against a mere 1.7 per cent in the same month a year ago, as manufacturing, mining and electricity sectors recorded double digit growth.
The industrial upsurge may make up for likely decline in farm production, hit by weak monsoon.
Finance secretary Ashok Chawla said that there is a possibility of industrial production to move up.
"We expect the trend to continue and expect better numbers in September," Chawla said.
Image: Pranab Mukherjee