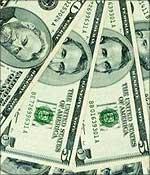 India received foreign direct investment of $3.26 billion in August, a robust growth of 40.51 per cent over the same month last year, in spite of the persisting global financial crisis.
FDI inflows, in August last year, stood at $2.32 billion, the Reserve Bank said in its bulletin.
The country attracted $3.51 billion FDI in July this year against $2.25 billion in the same month last fiscal.
Portfolio investment in August also increased by 56.15 per cent to $926 million compared to $593 million, the bulletin said.
The total FDI inflows during April-August, however, contracted by about 3.41 per cent to $14.14 billion compared to the same period in 2008-09, due to poor accruals
in the opening months of the fiscal. In the first five months of 2008-09, it was at $14.64 billion.
During the first five months of this fiscal, portfolio investment increased to $11.23 billion from $4 billion in the same period last year.
In 2008-09, the government had set a target of attracting $35 billion FDI, but was able to receive only $27.30 billion due the global financial crisis.