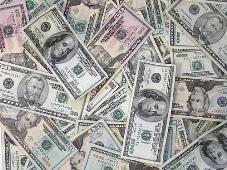 Betting big on Indian stocks, one of the best among the emerging markets, foreign fund houses have invested a hefty Rs 34,300 crore (Rs 343 billion) during the second quarter of this fiscal.
During the July-September period, foreign institutional investors made a net investment of Rs 34,313 crore (Rs 343.13 billion) in equities, as per the data available with the market regulator the Securities and Exchange Board of India.
With Indian bluechips giving nearly 17 per cent returns during the period, FIIs are bullish on good returns from emerging markets, like India.
Analysts said nearly half of FII inflows have come via qualified institutional placements and IPOs combined.
"This trend of inflows would broadly sustain over the long term considering the strong dynamics of the Indian economy," domestic brokerage firm Angel Broking said in a research note.
The trend of strong FII inflows to the tune of Rs 31,000 crore (Rs 310 billion) or $6.3 billion witnessed during Q1 FY2010 gained further strength during the September quarter this fiscal.
With this, total cumulative FII inflows in 2009 crossed the $10 billion mark during September 2009 and stood at about Rs 60,000 crore ($12.4 billion) at the end of the month.