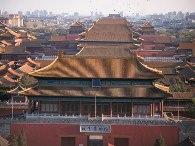 The Chinese economy expanded at a rapid rate of 8.9 per cent in the third quarter of 2009 as compared to the year-ago period, mainly boosted by increased infrastructure investment and stimulus measures.
The world's fastest growing economy, which has been less affected by the global financial meltdown, grew 7.9 per cent in the June quarter.
"In terms of growth by quarters, it (the Chinese GDP) was up 6.1 per cent for the first quarter, 7.9 per cent for the second, and 8.9 per cent for the third quarter," the National Bureau of Statistics of China said.
To boost the nation's economy, China had come up with a massive stimulus package worth about $585 billion.
According to the National Bureau of Statistics of China's spokesman Li Xiaochao, the investment in infrastructures was increased by a large margin.
"In the first three quarters, the investment in infrastructure (excluding electricity) went up by 52.6 per cent," Xiaochao said in a statement.
Meanwhile, the GDP of India, which is the world's second fastest growing economy, is expected to expand up to 6.75 per cent for the year ended March 2010.
In the wake of the financial turmoil, India's economic growth too slowed down to 6.7 per cent in 2008-09, from over 9 per cent recorded in the previous three years.
China and India have been growing, albeit at a slow rate, even as many advanced countries slumped into recession due to the financial crisis.
In the first nine months of this year, the Chinese economy rose 7.7 per cent as compared to the year-ago period.
"We have attained obvious achievements, and further strengthened the steady upturn trend of the economy. The overall situation of national economy was good," Xiaochao said.
The amount of outstanding loans of all financial institutions in the third quarter stood at 39 trillion yuan, an increase of 8.7 trillion yuan as compared to the beginning of this year. The rise is 5.2 trillion yuan in comparison with the same period a year earlier.
Noting that at present, the country's economy is at a crucial stage to realise growth, Xiaochao said that the basis of the economic recovery still needs to be consolidated.
"... the insufficient external demand is still severe, with the arduous task of expanding domestic demand and adjusting the structures," he added.