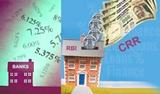 The Reserve Bank is likely to raise Cash Reserve Ratio, the portion of funds that banks have to keep with the regulator, by 50 basis points in its forthcoming monetary review next week and signal tight monetary measures, says Moody's.
"...at its October policy meeting, the central bank will signal to markets that it has adopted a tightening bias by raising the CRR by 50 basis points," Moody's economy.com, the research arm of Moody's said ahead of the RBI's monetary policy review on October 27.
Higher CRR, Moody's said, would help in removing excess liquidity that has built up in the banking system from strong capital inflows and deposit growth that has outpaced lending.
Reserve Bank had gradually reduced CRR from 9 per cent to 5 per cent unlocking banking sector funds to minimise the impact of the global financial meltdown on the Indian economy.
RBI, however, may not revise the policy rates like the short-term lending (repo) and short-term borrowing (reverse-repo) rates as the economic recovery is in early stage, Moody's added.
At present, the repo rate (the rate at which banks borrow from RBI) is at 4.75 per cent and reverse repo (the rate at which RBI borrows money from banks) stands at 3.25 per cent.
Moody's further said that inflation concerns do not mandate monetary tightening at present.
"Food price inflation has accelerated sharply in recent months, but this is mainly due to low agricultural output caused by the worst drought in over 30 years," Moody's said.
Moody's economy.com expects the RBI to begin raising its twin policy rates in the second quarter of 2010, with an initial 25-basis point rate hike.
Inflation rose to 1.21 per cent for the week ended October 10 from 0.92 per cent in the previous week.
There are expectations that the inflation might reach 6 per cent mark by the end of the current fiscal.
DBS Bank said that the statutory liquidity ratio, the minimum share of bank deposits to be held in government bonds, cash, gold, could be hiked as early as next week by one percentage point.
"We do not rule out a one percentage point hike in the SLR rate to 25 per cent reversing the 1 point cut implemented in November 08," it said in a report.
It further said that RBI may not hike interest rate on October 27 though DBS expects the first rate hike in January.
"Moreover, we see rising upside risks to our forecast for 200bps of rate hikes in 2010," it said.
On Thursday, think tank Economist Intelligence Unit Research Director Manoj Vohra too said that the central bank is unlikely to signal hike in key rates in its monetary policy, however, it can raise the cash reserve ratio by 25-50 basis points.