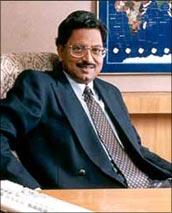 Top officials of the Central Bureau of Investigation are in Mauritius as part of the investigation into the multi-crore Satyam scam, which its founder B Ramalinga Raju (in picture) confessed to in January.
The CBI team will question several people there on the possible diversion of funds from the company to Mauritius.
According to sources, the officials include CBI DIG Lakshminarayana and Superintendent of Police Krishna along with a few other officials of the multi-disciplinary investigation team. They will return to Hyderabad on Sunday or Monday.
Mauritius is the first among the six countries to respond to the Letters Rogatory (LRs) -- a formal request to a foreign court seeking judicial assistance -- in the case.
The CBI officials will later visit the United States, the United Kingdom, Singapore, Belgium and the British Virgin Islands in connection with the case. It is said that they will question 25-30 people, including some Satyam employees, in each country.
Meanwhile, the AP High Court on Friday reserved orders on the bail petition of Price Waterhouse auditor Srinivas Talluri to October 28.
The court heard the arguments for the second successive day. The auditor's counsel said trial would be completed faster if CBI filed separate chargesheets instead of bundling it together with Raju's case.
In addition, a Division Bench of the High Court will give orders on CBI seeking permission to conduct lie detector (polygraph) and F300 testing (brain mapping) on Raju, former managing director Rama Raju and former chief financial officer Srinivas Vadlamani on October 26.
Satyam case: PW opts for consent proceedings
Audit company Price Waterhouse has decided to pursue consent proceedings with the Securities and Exchange Board of India to settle the Satyam audit case under the Fraudulent and Unfair Trade Practices norms.
Sebi had served a show-cause notice to PW in February.
In a statement issued in the evening, PW confirmed that it had decided to pursue consent proceedings. Rather than engage in potentially long-drawn-out legal proceedings with Sebi, the audit company said it would be better for all parties to explore, without prejudice, the settlement of proceedings initiated by the market regulator.
Consent proceedings typically last two to three months.
The avenue to settle proceedings, offered as part of the normal Sebi procedures, is designed to arrive at mutually acceptable terms. PW said it was aware of the impact that the fraud perpetrated by the former chairman of Satyam has had on the business confidence in India.
However, it said the pursuit of a potential settlement is not in any way an acknowledgment by it that there was any wrongdoing in relation to the audit of Satyam.
On January 7, Satyam founder R Ramalinga Raju admitted to inflating the company's balance sheet by Rs 7,700 crore (Rs 77 billion).
Consequently, R Ramalinga Raju, his brother Rama Raju and chief financial officer Srinivas Vadlamani were arrested. Two PW auditors, S Gopalakrishnan and Srinivas Talluri, were also arrested.