The economic recovery in Asia is faster than the rest of the world and is projected to grow by 5.75 per cent during 2010, says the International Monetary Fund.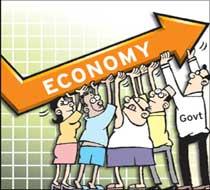 "The region (Asia) is out pacing other parts of the world, with the "green shoots" of recovery appearing earlier and taking firmer roots than elsewhere," the IMF said in its regional economic outlook on Thursday.
IMF forecasts suggest Asia will grow by 5.75 per cent in 2010, higher than the 1.25 per cent predicted for the G-7 economies, but short of the 6.66 per cent average recorded for the region over the past decade.
"Asian economies have been very strong in their stimulus from both monetary and fiscal sources," IMF Asia and Pacific department director Anoop Singh said.
Pointing out that Asia's outlook would be closely tied to the global economy, the report, however, warned that the continued weak global demand would have a considerable impact on the region's future growth because of heavy dependence on exports.
"Asia has boomed as America's consumption outpaced its income. If over the coming decade, US consumption slows markedly, the impact on Asia's growth could be sizeable," the report warned.
It added that over the longer-term, Asia's future prospects would depend on the region's success in allowing domestic sources to play an important role in promoting growth.