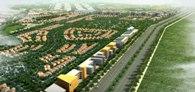 The West Bengal government has handed over the first tranche of 533 acres to Bengal Aerotropolis Projects Ltd (BAPL) for setting up a new airport city project. This is to come up in the Durgapur-Asansol region, of Bardhaman district, at an estimated investment of Rs 10,000 crore (Rs 100 billion).
A 99-year lease agreement has been signed between BAPL and the West Bengal Industrial Development Corporation, under which the premium paid by the company was Rs 44.37 crore (Rs 443.7 million).
The total land requirement for the project is 2,300 acres and acquisition of the remaining area would be completed over the next few months.
"Having already received the clearance from the ministry of civil aviation and attained financial closure for the project, we are in the process of completing the detailed engineering plan for the airport and expect to commence construction from March 2010. The airport will be operational by September 2011," said Arvind Pande, chairman of BAPL, in a statement.
Wong Woon Liong, CEO of Changi Airports International, which has a 26 per cent stake in BAPL, said: "We are happy that the first tranche of land for the project has been handed over and we look forward to continued support from the West Bengal government for the project. This is a significant milestone for BAPL, and Changi is confident that the project will progress on schedule."
This is Changi's first investment in India. They have also signed a technical services agreement under which they are providing advisory services to BAPL in planning, supervising execution and commissioning of the proposed airport.
Liong and Eugene Gan, Deputy CEO, Changi, have been inducted on the BAPL board.