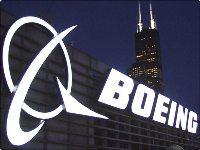 Commercial plane maker Boeing saw orders for its jets dip 11 per cent in August this year from a year ago while for the first eight months of 2009, orders plunged 71 per cent to 161 from 556 in January-August 2008.
According to the data on city-based company's website, Boeing received 32 orders for 737s in August 2009 as compared to 36 orders for the planes in the same month a year ago.
However, Boeing received just 161 orders for its new planes during January-August 2009, 71 per cent lower than orders booked in the first eight months of last year.
With airlines resorting to downsizing due to weak travel demand, Boeing has seen decline in orders for its planes.
The company, which has been trying to get the 787 Dreamliner off the ground, witnessed dip in delivery of its planes as well.
It delivered 28 planes last month, down from 36 during August 2008. The August 2009 deliveries include three 777s to Indian carrier Air India. In the first eight months of 2009, Boeing delivered 307 airplanes as compared to 313 during the same period a year ago.
During the week ended September 1, Boeing received 11 new orders for 737 planes, while orders for two 777s were cancelled.
Boeing expects to fly the 787 Dreamliner by end of the year. The maiden flight of the lightweight plane has been delayed about five times in the past. The company is hoping to make the first deliveries in 2010.