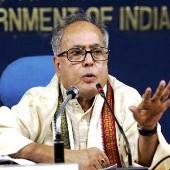 Finance Minister Pranab Mukherjee on Monday said that G-20 countries, a club of developed and developing nations, have agreed to continue with the stimulus packages till the global economy fully recovers.
G-20 countries decided to postpone till the full revival of the world economy the "exit strategy" aimed at withdrawing the stimulus packages given by several countries to combat the global slowdown, Mukherjee, who attended the meet of G-20 Finance Minister past week in London, said.
"Most of the Finance Ministers, including Finance Ministers of some of the developed countries, agreed to the formulations that this is not the appropriate time to work out the strategy of the exit policy ...unless the world economy is fully revived," he said on the sidelines of a conference organised by the Forum of Financial Writers.
G-20 ministerial meeting had agreed to "continue to implement decisively our necessary financial support measures and expansionary monetary end-fiscal policies, consistent with price stability and long term fiscal sustainability, until recovery is secured".
A communique "has been adopted by the ministers…I do hope that the review (of the global economy) we have made and the consensus we have arrived at will get reflected in the meeting of heads of states in Pittsburgh," he said earlier that the Bank of India function.