Indian exporters have more trouble in store, as the global merchandise outlook has worsened with UN body UNCTAD estimating 11 per cent decline in international trade in 2009.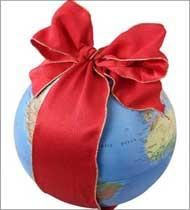 "In 2009, world trade is ... set to shrink considerably, by 11 per cent in real terms and by more than 20 per cent in current dollars (terms)," United Nations Conference on Trade and Development report said on Monday.
Global recession led to a fall in demand from major developed countries like the US and European Union. Indian exports remained in the negative zone for the tenth month in a row since October 2008. For the April-July period of this year, exports dropped by over 31 per cent.
The World Trade Organisation had earlier estimated the global trade to be slipping by nine per cent in 2009.
World trade slowed down in 2007 and has been shrinking at a fast rate since November 2008, in both volume and value terms. Trade volume decelerated first in the United States and other developed countries, the report said.
The US and other developed countries in Europe account for bulk of India's exports.
As the crisis is global, reliance on exports offers no easy way out, since trade is expected to decline by about 11 per cent in real terms and any new trade expansion requires a recovery of consumption and investment somewhere in the world, the report said.