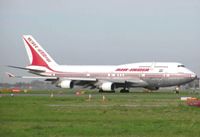 The COO of the state-owned National Aviation Company of India Limited will have an initial tenure of three years. The tenure can be extended by two years provided the incumbent's performance is satisfactory.
The COO's compensation package will be negotiable, based on qualification and experience in the industry. But he will also be given a performance-linked pay based on key performance indicators determined by the management or the board.
Nacil operates India's only state-owned airline on both the domestic and international routes under the brand name of Air India.
The government had recently decided that the loss-making company would appoint a COO, who will report to its chairman and managing director, Arvind Jhadav, who belongs to the Indian Administrative Services.
An advertisement, appearing in Financial Times, indicates that Nacil has gone in for a global search for its COO. The advertisement says Nacil's gross annual turnover is $4 billion. The advertisement makes no reference to its current or accumulated losses.
The COO, according to the advertisement, will be on contract and part of the top management team at NACIL. The incumbent, it says, should have vast experience, be professionally qualified, highly motivated and result-oriented, with proven leadership qualities and a part of the top management team of any public/private sector company in India or abroad.
Preference would be given to those candidates who are in the aviation industry or in the past had turned around performance of a large organisation with manpower strength of at least 10,000.