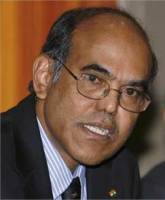 When Reserve Bank of India Governor D Subbarao meets top bankers in the customary pre-policy meeting on October 12, he can draw comfort from the fact that a majority of the bankers think interest rates may not be hiked till the end of the financial year.
In addition, bankers also told Business Standard that they did not expect the central bank to hike policy rates or the cash reserve ratio in the third quarter review scheduled for October 27 as inflation was not rising fast though inflationary expectations were there.
While RBI has repeatedly indicated the withdrawal of its accommodative stance, bankers expected RBI to increase the policy rates or the cash reserve ratio only in the fourth quarter. Global banks such as Citi are expecting the interest rate cycle to turn in the fourth quarter of the current financial year or later in the first quarter of 2010-11.
Similarly, HDFC Bank Chief Economist Abheek Barua said that interest rates might rise by 50-75 basis points during the fourth quarter.
Economic activity is showing early signs of revival with industrial output growing by 6.8 per cent in July. In addition, despite growing inflationary expectations, bankers do not see interest rates to rise, at least in the current financial year.
Bankers see liquidity situation to remain comfortable despite government's huge borrowing plan and inflation will remain in line with Reserve Bank of India's projection of 5 per cent for 2009-10.
As a result, there may not be a need for increasing lending rates. "I don't think RBI will change its stance in the October policy review because the economy has not fully revived and inflation is still under control. So, RBI does not need to tighten right now. My view is that from January, RBI may start tightening," said Indian Overseas Bank chairman and managing director S A Bhat.
Bhat's views were echoed by MD Mallya, his counterpart at Bank of Baroda.
"At the moment, there is no case for RBI to tighten the monetary policy stance because we are still to see economic revival. Though there are very strong signals about the industry performing well. Therefore, one would expect RBI to wait," said Mallya.
"Banks can lend only when deposits are coming. If people do not find it profitable to deposit (money) in a bank and go for other investment options, how will banks lend? To attract deposits, I may have to offer slightly higher rates on deposits. If I have to increase margins, I will have to charge a little more from the borrower," added Bank of Maharashtra Chairman and Managing Director Allen CA Pereira.
ICICI Bank managing director and CEO Chanda Kochhar said that interest rates had bottomed out and even if rates went up, they would not affect credit growth.
Ample liquidity despite government's huge borrowing plan and loan growth likely around 20 per cent in 2009-10 compared to more than 30 per cent in the last few years has led bankers to believe that they might not have to increase interest rates in the current financial year.
While banks were no longer parking over Rs 1,00,000 crore (Rs 1,000 billion) with RBI on a daily basis, there were signs of a pick-up in credit flow. Overall credit growth was a tad over 13 per cent during the year up to September 11, said bankers.
Image: Reserve Bank of India Governor D Subbarao