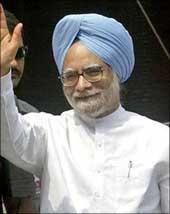 The Reserve Bank of India's platinum jubilee celebrations in Mumbai on Thursday served as a poignant moment for Prime Minister Manmohan Singh to reminisce about the time he was the custodian of the country's monetary and bullion reserves.
"It is a pleasure to be here in Mumbai for the platinum jubilee celebrations. For me, this is also a very special moment of nostalgia," said Singh, who was Governor of RBI from 1982-85 before going on to become the country's finance minister and then the prime minister.
Singh, widely regarded as the architect of India's financial sector reforms and liberalisation, said that he spent "some very memorable years in this institution as its Governor."
Even during his tenure in RBI, Singh oversaw introduction of comprehensive legal reforms related to the banking sector.
"My wife and I cherish the memories of many new enduring friendships that we made during those days," he said.