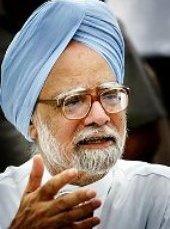 Prime Minister Manmohan Singh said on Thursday the global economic crisis should not result in an end to financial innovation, as the Indian banking and the financial sectors were small and needed to be developed to support faster growth.
In his address at the Reserve Bank of India's platinum jubilee celebrations in Mumbai, Singh said  banks needed to provide instruments to Indian companies to help them manage their foreign currency risks.
Similarly, he pointed out, there was need to initiate steps to develop a strong domestic corporate bond market to finance infrastructure investments, as banks were not the best financiers.
Most of the resources raised by banks were by way of deposits, which were short-term in nature, while infrastructure projects had a long-gestation period.
This created an asset-liability mismatch. While the development of a corporate bond market had been on the agenda for several years, the government and RBI were not able to make much headway.
At the same time, Singh said the regulator should not lower its guard.
The prime minister complimented RBI on initiating counter-cyclical measures before the financial crisis of 2008 to check a build-up of pressure from real estate lending in India.
He added that financial regulations needed to be designed to avoid excessive risk-taking, so that banks could protect their balance sheets from cyclical variations.
"We must be particularly watchful of regulatory loopholes which can create systemic risk," he said.
Besides, Singh, who had been the central bank governor, reiterated that India should liberalise its capital account gradually, an approach it had adopted for several years.
The Prime Minister also articulated the three guiding objectives of monetary policy. First, he said that actions should be aimed at controlling inflation.
Two, financial sector stability was essential.
Three, the policies must meet the financial intermediation needs of rapid and inclusive growth.
But, to achieve these objectives, a sound macro-economic environment was needed, Singh said and pointed out that the size of the fiscal deficit was a key parameter in this context.
He said the government had already initiated steps to lower the fiscal deficit -- budgeted to touch 6.8 per cent of GDP in 2009-10 -- to 4.1 per cent by 2012-13.
"It will be easier for the monetary policy to control inflation if the fiscal targets are met. This is not to say that the monetary policy has no role to play in the face of fiscal imbalance.
"However, its role in that situation is essentially defensive, of avoiding monetary expansion to accommodate the deficit since such accommodation will only stoke inflation," Singh said.
As part of the government's push for inclusive growth, Singh said, RBI's policy should ensure greater financial inclusion through the use of IT and mobile banking.
The statements came in the backdrop of improving economic environment with Singh predicting a return to 9 per cent growth path by 2011-12.
Besides, he said the Planning Commission had already been tasked with exploring the feasibility of achieving 10 per cent growth in the Twelfth Five Year Plan (2012-2017).
Image: Prime Minister Manmohan Singh