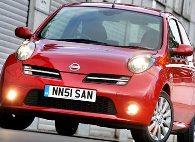 German auto major Daimler and Franco-Japanese alliance Renault-Nissan on Wednesday announced a three-way tie up, including equity swaps, for co-operation in development of small cars and light commercial vehicles.
As part of the agreement, Renault-Nissan Alliance will pick up 3.1 per cent stake in Daimler and Daimler 3.1 per cent in Renault and another 3.1 per cent stake in Nissan.
 Aimed at providing "additional synergies encompassing selective common purchasing opportunities, exchange of operational benchmarks and best practices to be shared across both groups," the three-way alliance also envisages co- operation in small vehicles, powertrain and light commercial vehicles (LCVs) development.
"Daimler and the Renault-Nissan Alliance are combining common interests to form a promising foundation that is based on a number of very concrete and attractive project cooperation. Our skills complement each other very well," Daimler
AG Chairman of the Board of Management Dieter Zetsche said in a statement.
He said the focus will be on working to strengthen competitiveness in the small car segment and reducing carbon emission.
Commenting on the alliance, Renault-Nissan Chairman and CEO Carlos Ghosn said: "This agreement will extend our strategic collaboration and create lasting value for the Renault-Nissan Alliance and Daimler."
Under the agreement, the alliance will develop a common platform for Daimler and Renault's small cars, 'smart fortwo' and 'Renault Twingo', including electric versions. The alliance will include sharing of diesel and petrol engines, with Renault-Nissan alliance supplying 3 and 4 cylinder engines for Daimler's future premium compact cars.
Daimler, in turn will provide 4 and 6 cylinder engines to Nissan's luxury brand Infiniti. Renault-Nissan will also provide their diesel engine and transmission for Daimler group firm Mercedes-Benz' mid sized van, Vito.
Renault will also provide technology for a new entry level commercial vehicle by Mercedes Benz, expected to be commercialised by 2012.
The three-way tie up comes at time when the global auto industry is slowly recovering from a demand slump last year.
The new alliance is estimated to make the partners achieve cost saving of $2.7 billion and additional sales from the new alliance over the first five years.
This will add to the over a decade long alliance of Renault-Nissan, in which the French firm holds 44 per cent stake in the Japanese partner, while Nissan hold 15 per cent stake in Renault.