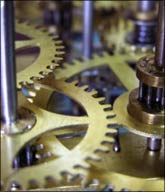 Industrial growth maintained the high growth rate of over 15 per cent for the third month in a row in February.
Industrial growth, as measured by the index of industrial production, however, was slightly lower than around 16 per cent of the previous month and 17.6 per cent in December.
The high growth is largely due to a strong 16 per cent growth in manufacturing and a low base of 0.2 per cent a year ago, when the Indian economy was still reeling under the impact of the global financial crisis.
Consumer durable, which was particularly hit by the global crisis, expanded 29.9 per cent in February while capital goods production rose 44.4 per cent.
Among other sectors, mining rose 12.2 per cent and electricity by 6.7 per cent. For the first 11 months of the last fiscal, industrial output rose by 10.1 per cent against 3 per cent a year ago.
As many as 14 out of the 17 industrial groups showed positive growth in February. This would help the Indian economy to grow by at least 7.2 per cent as estimated by the Central Statistical Organisation.