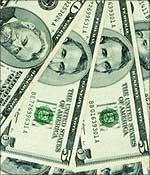 Remittances by Indian expatriates rose by over $1 billion to $27.51 billion (about 1,22,420 crore) during April-September 2009, unfazed by theglobal financial meltdown, a Reserve Bank of India survey has said.
The remittances increased from $26.37 billion duringthe same period in the previous year, as India provided much better returns.
". . .inward remittances in India have not been impactedsignificantly by the global economic crisis," RBI said in its latest monthly bulletin.
It further said the rise in remittances may beattributed to a number of factors, including depreciation of rupee resulting in the rise in inflows through rupee denominated non-resident Indians' accounts to take advantage of the depreciation and hike in interest rate ceilings on NRI deposits since September 2008.
RBI said that it was feared that the global recession could impact migrant workers more severely.
"Even if there is no lay-off, workers would often haveto accept lower wages as employers worldwide are seeking to cut costs in an attempt to cope with the financial crisis," it said.
The survey, which was conducted in November 2009, saidthat North America continues to be the most important source region of remittances to India despite its share in total remittances falling to 38 per cent (44 per cent during the 2006 survey).
This is in line with the fact that a large proportion ofmigrants to North America (US and Canada) work in software andother Information and Communication Technologies-related areas which have relatively higher average earning levels.
The Gulf region accounts for an average of 27 per cent of the total remittance inflows to India, with major source countries being the UAE and Saudi Arabia.
While Kochi and Mumbai receive above 50 per cent of theirremittances from the Gulf region; Ahmedabad, Bangalore,Chandigarh, Delhi, Hyderabad and Kolkata received more than 60 per cent of their inward remittances from North America andEurope together.
It further said that while the larger numbers of the bank branches that were surveyed have reported negligible impact of global crisis on flow of remittances, responses have beenmixed across the regions.
"Majority of the respondents in Delhi and Chandigarh centres said that ongoing recession led to decline in the remittances, while in Ahmedabad centre, the majority of therespondents did not see any significant decline in the flows of remittances in the region," RBI said.