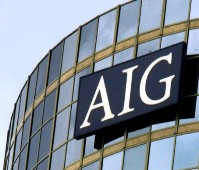 US government-backed insurer AIG is considering legal action against Goldman Sachs over losses incurred on $6 billion worth of insurance deals on mortgage-backed securities, says a media report.
British daily The Financial Times has reported that AIG had lost $2 billion over the deals and the move is a sign that Securities and Exchange Commission action against Goldman Sachs could spark litigation from investors who lost money on mortgage-backed deals.
The US market regulator Securities and Exchange Commission last Friday slapped charges on Goldman Sachs for defrauding and causing a loss of over $1 billion to investors by misrepresenting information about a financial product tied to sub-prime mortgage securities.
The publication said that AIG is 'considering pursuing Goldman Sachs over losses incurred on $6 billion of insurance deals on mortgage-backed securities similar to one that led to fraud charges against the US bank'.
Quoting people close to the situation, the report noted that AIG was reviewing deals to insure $6 billion-worth of Goldman's collateralised debt obligations in the run-up to the crisis. AIG is yet to decide whether to take action, it added.
"Under a deal struck by AIG and Goldman last year, the bank agreed to cancel insurance on some $3 billion-worth of CDOs in exchange for keeping collateral worth about $2 billion," the daily said.
According to the publication, the CDOs being reviewed by AIG are part of a family of securities known as Abacus.
The SEC's complaint is focusing on one of the Abacus deals that is not among the securities insured by AIG.