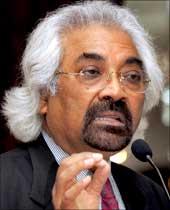 Prime Minister Manmohan Singh on Tuesday approved the setting up of a National Innovation Council to prepare a road map for the 'Decade of Innovation 2011-2020'.
Sam Pitroda, adviser to the prime minister on public information infrastructure and innovations, will head the National Innovation Council.
The Council has been given the mandate to evolve an Indian model of innovation focussing on inclusive growth and creating an appropriate eco­system conducive to fostering inclusive innovation.
It will delineate appropriate policy initiatives within the government required to spur innovation. It will also promote the setting up of sectoral innovation councils and state innovation councils.
While encouraging all important sectors of the economy to innovate, the NIC will take special efforts to facilitate innovation by micro, small and medium enterprises.
Innovation in public services delivery and encouraging multi-disciplinary and globally competitive approaches for innovations would be focused on by the council.
The National Innovation Council would have as its members:
K Kasturirangan, members of the Planning Commission;
Arun Maira, member of the Planning Commission;
Ramesh A Mashelkar, former director general of CSIR;
Kiran Karnik, former President, Nasscom;
Devi Prasad Shetty of the Narayana Hrudyalaya;
R Gopalakrishnan, executive director, Tata Sons;
Kiran Mazumdar Shaw, chairperson, Biocon;
Shekhar Kapur, film director;
Saurabh Srivastava, chairman, CA Technologies;
Anil K Gupta, professor IIM Ahmedabad;
Sujatha Ramadorai, professor, TIFR;
Chandrajit Banerjee, director general, CII;
Amit Mitra, secretary general, FICCI;
Samir Brahmachari, director general, CSIR; and
Sanjay Dhande, director, IIT Kanpur.
R Gopalakrishnan, additional secretary in the Prime Minister's Office, will be the member secretary of the National Innovation Council.